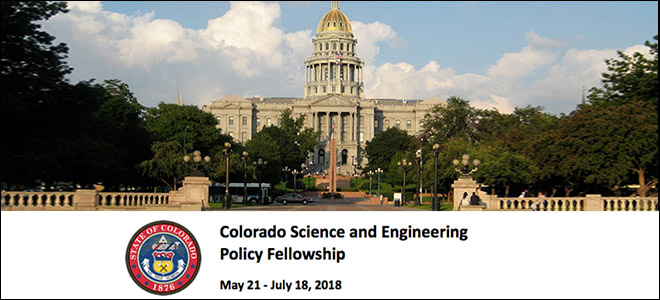 Colorado Science and Engineering  Policy Fellowship
May 21 – July 18, 2018
More Information

The Colorado Science and Engineering Fellowship is designed to give policy making experience to undergraduate and graduate students with backgrounds in science, technology, engineering, and mathematics (STEM). Throughout the session, each fellow will conduct his/her own policy research project in addition to learning more about STEM policy through seminars and industry site visits. Fellows will work with Colorado State Representatives Chris Hansen and Bob Rankin.
The upcoming session will take place from May-July 2018, for which 12-15 fellows will be chosen. Fellows will be given a $4000 stipend to cover cost of living in the Denver Metro Area and travel.
Application Deadline: April 2 at 5:00 PM (MST)
Competition Details
Applicants must be a senior undergraduate or graduate student pursuing a degree in a STEM subject.
Only completed applications will be considered. A complete application includes the following:
A completed application form (available here)
Two short essays (see application for prompts)
Current CV
Unofficial University of Colorado Boulder transcript(s)
Statement of availability between May and July 2018
Please email your application materials to Ami Nacu-Schmidt by 5 PM on April 2, 2018.
The selected applicant will be asked to submit a brief report about their fellowship experience to be posted on the Center for Science and Technology Policy Research website.
Syllabus Overview
May 21 – July 18, 2018
This fellowship will enable talented STEM students to gain exposure to the public policy arena. As our state increasingly faces complex challenges related to energy, public health, and transportation, technical expertise in government are essential to create effective, fact-based policy. This fellowship will allow scientists and engineers to contribute their expertise to the legislative process in Colorado, and give these students a greater appreciation for the important role that policy plays in solving technical problems. This should provide a broadening experience for the fellows, as well as create a conceptual bridge between the STEM disciplines in Colorado, the host institutions, and the policy-making process at the state level.
Format: The fellowship will open with an introductory boot camp, during which fellows will learn about the policy-making process at the Capitol and acquire the skills they will need to be part of it.
Fellows will then divide their time between three separate activities. First, there will be a number of visits to relevant external sites and stakeholders. These will span a wide variety of institutions where technology and policy intersect. Second, fellows will be attached to a particular committee that reflects the policy interests outlined in their proposal. There are a wide range of issues being discussed in depth in committee over the summer, from air quality to water security. Fellows will learn their issue and the relevant players first-hand. Finally, fellows will get the time, space, and resources to research their own particular policy proposal. During the last week of the fellowship, they will deliver their policy pitches at a Capitol open day to legislators, industry figures, university representatives, and each other.
Guest speakers from the Colorado General Assembly will also visit the cohort weekly for Q&A style sessions. Throughout, State Representatives Chris Hansen and Bob Rankin and their offices will manage the fellowship and be the fellows' first point of contact. More Information.