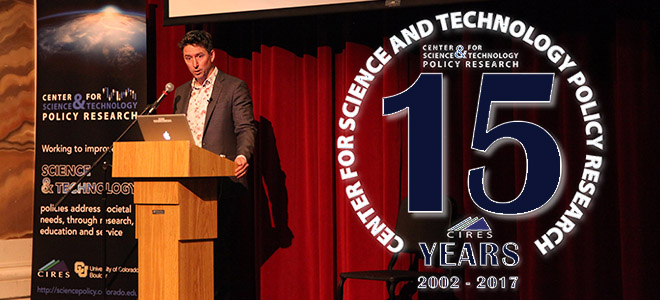 by Alison Gilchrist, CSTPR Science Writing Intern
This year, the Center for Science and Technology Policy Research (CSTPR) celebrates its fifteenth anniversary since being recognized as an official University center in 2002. In its fifteen years, CSTPR has weathered major political, social and economic changes—not to mention some severe cold snaps. Through it all, the center has been an important bridge between science and policy for all of the faculty and students who have been involved, as well as the many CSTPR collaborators.
To celebrate the anniversary, CSTPR hosted a keynote address by Brian Deese, Former Climate and Energy Advisor to US President Obama. At the event, Max Boykoff, current director of CSTPR, gave a short introduction in which he talked about the center's beginnings.
He quoted Susan Avery, the Cooperative Institute for Research in Environmental Sciences (CIRES) Director from 1994 to 2004 and Assistant Director of CSTPR at the time it was founded: "Developing the center provided a means of establishing research and education programs that focused on the growing need for a connection between science and society."
Avery called the period in which CSTPR was developed an "interesting and exciting time"—sentiments expressed by many of the people who were instrumental in founding the center and defining its goals. Boykoff, who arrived in 2009, says that CSTPR was already an exciting and unique place by the time he became director in January 2016.
"There aren't that many places where there can be these kinds of cross-disciplinary collaborations undertaken in consistent, sustained and systematic ways," said Boykoff. "So an institute like CIRES—well, that was one of the reasons I came to Boulder to take this job. CSTPR really occupies a unique and important space."
In 2016, Boykoff took the opportunity to clearly define the goals and priorities of CSTPR.
"When I stepped in as Director, we had an opportunity to take a fresh look," said Boykoff. "there's a really broad expanse of science and technology policy research, so we went through a process of identifying some of our priority areas and themes."
Four themes solidify the vision and mission of CSTPR in 2017 and going forward. The first, 'Science and Technology Policy', involves studying decisions made at the science-policy interface. This theme describes studies of research processes intended to co-produce science between scientists and stakeholders—a critically important goal for those who want to make science immediately useful for policy makers and the public.
'Innovations in Governance and Sustainability', a key theme for many CSTPR researchers, involves studying how sustainability challenges can be addressed by policy. As climate change becomes increasingly addressed in policy, projects related to this theme continue to be incredibly important contributions that CSTPR makes. Similarly, pursuing research along the 'Drivers of Risk Management Decisions' theme, for example by studying how individuals and institutions make decisions to respond and adapt to perceived risks, can help us understand the ways in which governments can respond to crises related to climate change.
Finally, projects in the theme of 'Communication and Societal Change' helps analyze how representations of science and technology can increase or hamper their reach and impact in various target sectors and in the greater public. Boykoff discussed how all four of the themes are clearly visible in the research projects being carried out by CSTPR scientists today.
Students and faculty who have passed through CSTPR know well the importance that the center serves in the scientific and policy communities. Elizabeth "Bets" McNie, one of the first graduate students at CSTPR, spoke about the role that CSTPR played in her own career path.
"CSTPR has created a community that has really supported me and my research over the years and has given me resources to help me do my research better," said McNie. "Most of those resources have been the people here and communicating with them and getting ideas from them and knowing that there are like-minded folks who "get it"—get the science-policy nexus and the challenges of working at the nexus."
Over fifteen years, CSTPR has been in a unique position to house graduate students, visitors, postdocs, faculty, and staff who feel similarly, and has formed a strong network of scientists and researchers who feel passionately about combining science and policy research.
"I like having a foot in the sciences, and then bridging into social sciences and humanities questions from there," said Boykoff. "It's important to recognize the challenges and threats to science and environment and some of the critical issues around policy decision making."
Boykoff is optimistic about the future of CSTPR.
"The state of our center—we're in a really strong position. We have a great group of core faculty, we're strengthening with affiliates, the four areas we've identified and now are pursuing ones that I feel really good about," said Boykoff. "While I feel like the scale of challenge is as big as it has been, there's also a skilled response that we've put together that I feel proud of. We're stepping up in CSTPR in this critical time. "