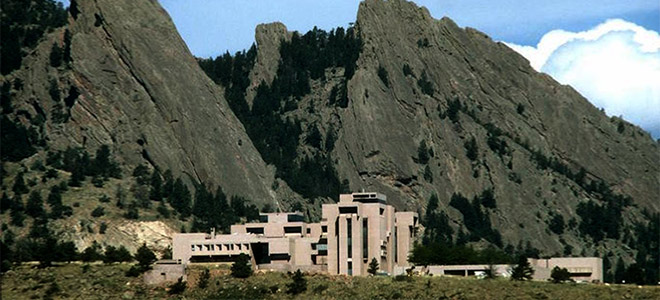 by Abigail Ahlert, CSTPR Science Writing Intern
When I sat down to talk with Dr. Antonio Busalacchi on April 21st, there was one topic that I was sure would come up: The Weather Research and Forecasting Innovation Act (H.R. 353). Dr. Busalacchi is the president of the University Corporation for Atmospheric Research (UCAR) in Boulder, an organization that provided language for H.R. 353 and offered strong support for its passage. On April 18th, it was signed into law.
H.R. 353 is largely considered a bipartisan triumph—a rarity in divisive political times. "If you look at the core of what we do, it's all about protection of life, property, support of economic development and national security," says Busalacchi. "And that's apolitical. Both sides of the aisle resonate with that." While the law does not guarantee funding increases for federal research organizations (whose budgets have remained mostly flat in recent years), it's the first major weather legislation enacted since the early 1990s. After years of work, this bipartisan agreement on research priorities is a step forward for UCAR and the rest of the weather research community.
In May, on the heels of this victory, I traveled to Capitol Hill with Dr. Busalacchi, the UCAR Board of Trustees and fellow winners of a student essay contest. UCAR is a consortium of over 100 colleges and universities. With funding from the National Science Foundation (NSF), it manages the National Center for Atmospheric Research (NCAR) and various community programs in education and public outreach. Before he became UCAR's president in August 2016, Busalacchi was director of the Earth System Science Interdisciplinary Center and a professor at the University of Maryland.
Busalacchi's background gives him an external perspective on UCAR, especially since he's the first president to hail from academia in many years. He says that fifty years ago, NCAR was the touchstone for advancements in numerical weather prediction. But since then, university research has played an increasingly important role, and modern earth system prediction is not something that either NCAR or academic institutions can do alone.  Busalacchi wants to draw upon the "breadth and depth" of expertise at UCAR's university partners while providing them with the tools and platforms that they need through NCAR.
During the trip to Capitol Hill, we met with Congressional staffers. We described the ways that federal funding in weather and climate research has advanced scientific understanding and affected our communities. In many cases, we also passed along thanks to the Congressional members for their support on H.R. 353. But while it has a government relations arm, UCAR is not primarily an advocacy organization. Busalacchi likes to think of UCAR's advocacy efforts as "nondenominational". "When I go out, I'm not advocating for NCAR specifically," he says. "I'm advocating for the community involved in weather, water, climate, air quality, space weather and training the next generation of STEM professionals."
Overall, our meetings with both Republican and Democratic Congressional staff were very cordial. The time that we spent with Colorado Senator Michael Bennet's staffers was particularly amiable, since Senator Bennet is quite familiar with UCAR and supportive of federal science funding. This is perhaps unsurprising, since a recent study by the University of Colorado's Leeds School of Business found that federal research facilities and their affiliates contributed $2.6 billion to the Colorado economy in 2015. According to the study, "these facilities accounted for nearly 7,800 full-time, part-time, contract, and student jobs in Colorado in FY2015, which supported an additional 9,800 jobs through the multiplier effect." The greatest economic contribution of the research facilities was in Boulder County, which is home to UCAR and three NCAR facilities, including the iconic Mesa Laboratory.
However, despite these promising statistics, there are signs that flat federal funding may be starting to take its toll. NCAR recently announced that it will eliminate 18 positions that receive base funding from NSF and 18 currently vacant positions.  Reductions were made mostly to human dimensions and societal impacts research, statistical and numerical methodologies, and solar interior modeling. Laura Snider, Associate of Media Relations at NCAR, says that NCAR's budget has not been reduced by NSF, but remained level. "Given inflation and other increased operating costs, these flat budgets have felt more like cuts," says Busalacchi.
So with this setback, where does UCAR go from here? As Busalacchi says, "UCAR, as the manager of NCAR, is constantly striving to be the best possible steward of NSF's investment in NCAR. Practically speaking, that looks like making sure as many dollars as possible go toward the actual science. For example, UCAR has also made some reductions in the past several months that will allow us to keep our overhead rate low heading into the new fiscal year." The organization aims to manage NCAR so that it provides what many individual universities cannot, including research aircraft and supercomputing resources. To do this, UCAR will maintain its presence on the Hill and focus on its strategic priorities.