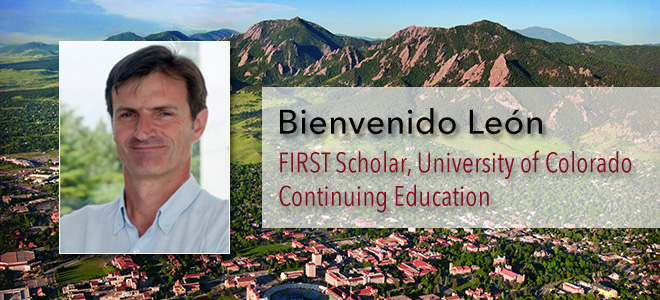 Professor Bienvenido León joins CSTPR for this summer. He is visiting through the Faculty in Residence Summer Teaching program (FIRST) in the Office of Continuing Education at CU Boulder. This is a collaboration with ENVS and Inside the Greenhouse.
Bienvenido is associate professor of science journalism and television production at the University of Navarra (Spain). He has also worked as a documentary film director, scriptwriter and producer for over 30 years. He teaches regularly in other universities of Spain and other countries, and has been a visiting scholar at the University of North Carolina and the University of Otago. His research has mainly focused on audio-visual science and environment communication. He is the founding director of the Research Group on Science Communication at this university, and currently the director of the international research project "Online video as a tool for communicating science". He has published 21 books as author or editor and over 60 peer-reviewed papers or book chapters. Before joining the academic field, he worked as a TV journalist for a decade. He has founded and directed two environmental film festivals: Telenatura (2001-2013) and Urban TV (2002-2014).
As part of his visit, Bienvenido will be giving a talk August 3 in CSTPR on 'How have nature and environmental documentaries changed since the internet arrived?' at 3pm. More information is available here.