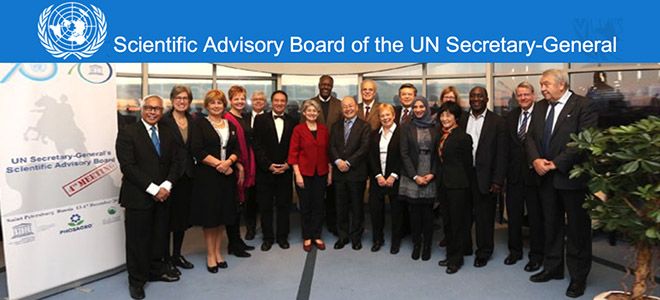 The UN's Scientific Advisory Board has done pioneering work. If it is not renewed, policy will suffer
by CSTPR Faculty Affiliate, Susan Avery and Maria Ivanova
"Science makes policy out of brick, not straw," the Scientific Advisory Board to the United Nations secretary-general wrote in its summary report in September 2016. Twenty-six of us, scientists from a range of disciplines and countries, had worked for more than two years to provide advice on science, technology and innovation for sustainable development to the UN secretary-general.
The goal was to articulate scientific input as the then secretary-general, Ban Ki-moon, explored potential policies to address complex and interdependent problems and to point out effective responses. The board advised on issues ranging from the data revolution and the role of science in the Sustainable Development Goals to a Delphi study that identified major "scientific concerns about the future of people and the planet".
At the time of writing, however, Ban's successor, the incoming UN secretary-general António Guterres, has been silent on the board's future. It is imperative that he retain this institutional innovation and strengthen its role and collaborations with UN agencies.
Governments across the world recognise the importance of science for development and for competitiveness. It can identify problems, formulate policies and monitor their implementation. Science, technology and innovation can help provide food and water security and access to energy, and are central to the response to climate change and biodiversity loss. They can identify ways to create jobs, reduce inequality, increase incomes and enhance health and well-being. They should be integral to policy debates and decisions, not an add-on.
The UN created its first Scientific Advisory Board only in 2013, when Ban acted on the recommendation of the High-level Panel on Global Sustainability. Co-chaired by the presidents of Finland and South Africa, Tarja Halonen and Jacob Zuma, the panel recommended the appointment of "a chief scientific adviser or a scientific advisory board with diverse knowledge and experience to advise [the secretary-general] and other organs of the UN".
In September 2013, Ban established the board by appointing 13 women and 13 men from a broad range of disciplines (one withdrawal and one death have since reduced that number to 24). Much of the board's work has been pioneering, as was anticipated by the process that created it.
The complexity and scope of contemporary global problems that the UN is expected to resolve require new approaches and closer linkages between science and policy. Science without policy can be scattered and even futile. Policy without science usually fails to accomplish its core goals and undermines confidence that future policy will be better. Read more …