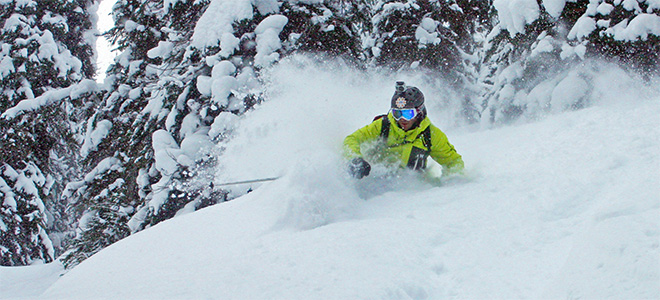 by Abigail Ahlert, CSTPR Science Writing Intern
Meteorologist Joel Gratz takes weather prediction off the beaten path. Gratz, founder of the skier-beloved forecast company OpenSnow and alumnus of the Center for Science and Technology Policy Research (CSTPR) at the University of Colorado Boulder, recently created a new app for iPhones that provides forecasts for hikers of Colorado's highest peaks. Gratz graduated from CU Boulder in three years with both an M.S. in Environmental Studies and an MBA. His new app, OpenSummit, delivers hourly temperature, wind, precipitation and lightning forecasts for every mountain in Colorado over 14,000 feet. The app is also synced with Instagram, so users can see for themselves the recent conditions at each summit. OpenSummit launched in September 2016, so summer 2017 will be its first ever 14er season.
"This was always kind of in the back of my mind, to help with forecasts for outdoorsy folks, but it's just until recently that we've had the time and money to put into a new app and a new service," says Gratz. "Eventually we want to provide forecasts for all the trails, not just 14ers."
OpenSummit aims to help eager hikers find ideal days to climb the big peaks, giving them more enjoyable and safer conditions. Hiking above tree line, as all of these hikes require, presents a severe risk of lightning strikes. According to the National Park Service, "Each year in Rocky Mountain National Park people are injured—sometimes killed—by lightning." The National Lightning Safety Institute ranks Colorado as 3rd most deadly for lightning strikes behind Florida and Texas. From 1990-2003, 39 people died from lightning strikes in Colorado.
To work against these risks, OpenSummit repackages publicly available forecast data for hikers to easily access and understand. "Almost all of the data somehow starts with the National Weather Service and with the government, so it's really just building upon decades of work that's taxpayer funded," says Gratz. He describes the missions of OpenSummit and OpenSnow as "specialization", saying that the "National Weather Service, rightly so, is focused on people and property protection and potentially large events that affect large numbers of people. But the number of people that are hiking 14ers, while important, is relatively small compared to the number of people driving or traveling or living in Colorado. So, this is just solving a problem that I didn't find being addressed by the National Weather Service or by other private weather companies. "
Indeed, Gratz is no stranger to filling forecast niches. His powder forecasts started as an email chain to his friends in 2007 and transformed into OpenSnow by 2011. OpenSnow provides mountain-specific forecasts, webcams, and snow reports for hundreds of ski destinations across the globe. While it's difficult to know the impacts of these forecasts on ski resort turn out, Gratz is confident in the reach of OpenSnow. "In a lot of the locations where we're the strongest—here in Colorado and in Utah and Tahoe—our forecasters are looked at as the main local forecasters for those mountain regions…And just by the number of people that are using our service and the number of partners that are advertising with us, my gut feeling is that we have a pretty good influence." The OpenSnow app and website see about 2 million visitors each ski season and have over 40,000 likes on Facebook.
While OpenSnow has established itself as a reliable source of winter weather predictions, mountain forecasting almost always presents unique challenges. Local knowledge and experience can go a long way in better forecasting, and this benefits regions like Colorado and Utah where OpenSnow has forecasters on the ground. But the organization also produces snowfall predictions for ski resorts in Europe, Canada and Japan, relying almost solely on weather model data. Gratz notes that even over the last nine years, weather models have greatly improved as researchers have refined model physics and parameterizations, and higher resolution runs have become possible. "Because of the higher resolution ensembles, we're able to take some of the ensemble data and weight it a little more than the operational runs, which try to smooth out the peaks and valleys. So while we may miss out on some of the extreme events, what we're not going to do, hopefully, is come up with big misses. Like telling someone it's going to snow a foot and then 6 hours later drop that forecast down to 2 inches," says Gratz, adding with a laugh, "Because that really makes people mad, me included."
Looking forward, the future of mountain ski resorts is uncertain in the face of climate change. Organizations such as Protect Our Winters and the National Ski Areas Association (both headquartered in Colorado) currently work to educate outdoor enthusiasts about the threat of climate change. Increasing temperatures in mountain regions could potentially decrease snowpack levels and ski season length, placing ski resorts at economic risk. Referring to the impact of climate change on powder days, Gratz says, "People ask me a lot about this. The answer, like most things, is multi-faceted. One, ski areas are expanding into summer sports, which is intelligent beyond climate change because it's better to have a 12-month business than a 6-month business…Two, I share with people locally, looking at climate change studies and weather stations, that temperatures have gone up, but there's really no trend in precipitation here in Colorado. But with increased temperatures and equal precipitation we can make reasonable assumptions that potentially you would get more rain in the shoulder seasons [generally late spring and fall], or at least potentially earlier snowmelt and more drought when it's warmer with more evaporation."
Gratz explains that the ski industry has a particularly complicated relationship with greenhouse gas emissions, since its activities often contribute to the problem. "I have a personal qualm about this because all of us skiers are getting in our cars and driving all over the place to go chase powder," says Gratz. "Some of us are riding in snowcats to go chase powder, some of us are getting in helicopters to go ski powder, a lot of us are flying all over the world to go ski powder. I mean, I'm one of them—I went to Japan last year and it was awesome—so I have a personal difficulty lecturing people about what to do."
Feeling caught in a tough position, Gratz skirts around the reprimands and sticks to educating skiers about observable trends in the mountains. On any given day, his role is part scientist, part businessman and part communicator—a balance that he developed during his time as a master's student at CSTPR. "I was able to continue to focus on science, but be exposed to policy and be exposed to business and be exposed to people who were trying to integrate a lot of those things," says Gratz of his time at CSTPR. "So I wasn't pigeonholed into creating a better equation. I wasn't pigeonholed into just writing policy briefs. I wasn't just doing financial analysis. It kind of allowed me to do it all and throw it all together. And for me that's exactly what I wanted, and effectively what I do every day."