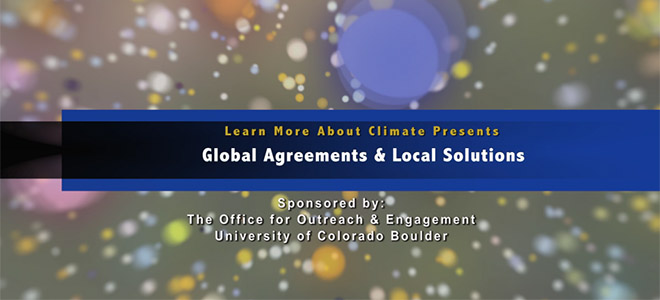 by Leah Goldfarb, CSTPR Visiting Scholar
How can we effectively communicate environmental policy decisions and legitimately leave people with a sense of agency and optimism? This was the question C3 Boulder: Climate Culture Collaborative asked at the closing of the Paris COP 21(the 21st Conference of the Parties of the UN's agreement on Climate Change) meeting in December 2015. To do this, I decided to write a play called "Hotel Climate" and many friends pitched in to preform it at a local bar. The core idea of the play was that participants of the COP 21 were checking out of a hotel in Paris, and as they departed they explained their countries' commitments and their thoughts going forward. The end of the play explained that while the tally of the final commitments did not assure the maximum 2 ° C warming agreed upon in the official accord, the COP21 meeting did potentially put us on track for doing this in the future. To illustrate this point, a parallel was drawn using the Montreal Protocol for limiting ozone-destroying compounds. The original agreement was not enough (it was the Amendments to the Protocol that made it effective), but the original Protocol was a necessary first step.
Katya Hafich (CU's K12 and Community Outreach Program Manager at the Office for Outreach and Engagement) was in the audience that night and asked if I would like to join a team she was assembling to communicate climate change concepts to the wider public. The resulting video "Global Agreements and Local Solutions", which is presented by Learn More About Climate is here. Barbara Macferrin, a graduate Research Assistant at University of Colorado Boulder, helped Katya to write the script and choose many of the key images to communicate this concept; Ross Taylor, a Visiting Professor in Journalism, created the video.
As we believe that we need to widely communicate issues around climate, we designed a video that would be accessible to an audience with a middle school level of education. Using a concept designed by Ross, we appeal first to our senses before describing an environmental policy problem and solution (stopping ozone destruction), and then relating that solution to the current challenge of climate change. While environmental educators do not commonly use this approach, we believe it may gain wider acceptance in the future.
In the interest of wider distribution, Learn More About Climate has made our video (and others like it) publically available. If you do decide to use one of these videos, it would be greatly appreciated if you could contact Katya, as it helps us to track its distribution. Please feel free to leave comments on the video on the Vimeo video page, where you can also download the video.