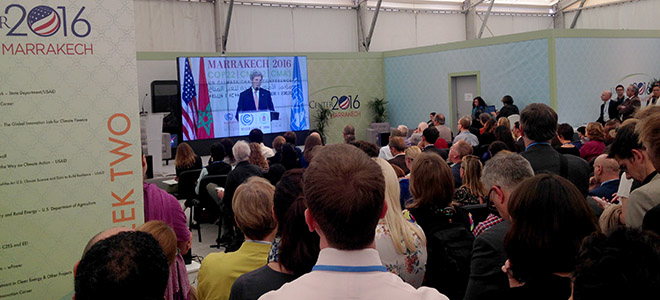 by Max Boykoff
Partly in the shadow of the recent US election of Donald J. Trump, the United Nations Climate Negotiations here in Marrakech have pressed forward in the face of the existential threat of 21st century climate change. As US Secretary of State John Kerry put it (albeit vaguely) in his talk, "even the strongest skeptics must recognize that something disturbing is happening". Possible double-entendres aside, Kerry provided a decidedly determined view of the work ahead. His comments were consistent with those of US delegates and observers throughout the Conference of Parties meeting ('the COP').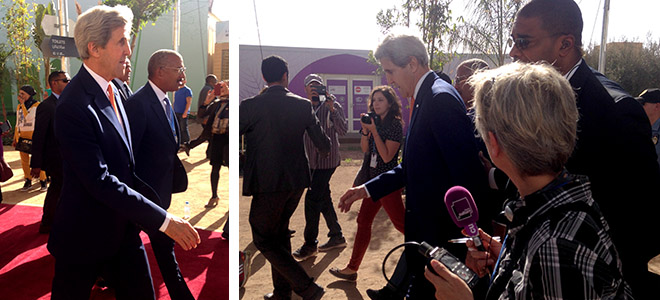 US Secretary of State John Kerry at the Conference of Parties meeting on November 16th
After all, going into the 2016 Marrakech round, this has interchangeably been called the 'COP of action', the 'COP of implementation' and the like. While some of this could be discounted as mind over matter, it is also an indication of the strong momentum that has built since the meeting in Paris nearly a year ago. As the Paris round of talks in December 2015 was dubbed the 'end of the beginning of work', Marrakech marks the opening of high-level talks in the next chapter of this global story.
Riding a wave of productivity, punctuated by international progress to curtail aviation emissions (agreed in Montreal, Canada Oct 6) and hydrochloroflurocarbons (agreed in Kigali, Rwanda Oct 15), along with the 'entry into force' of the Paris Agreement on November 4, delegates and observers have set to work on the implementation elements of the Paris Agreement. These centrally include policy measures involving climate finance, loss and damage and rules on reviewing pledges. Within this milieu, actors from the US voiced enthusiasm for business, industry, government and civil society to continue to keep pace with these development, and not to squander opportunities to move forward with the global community.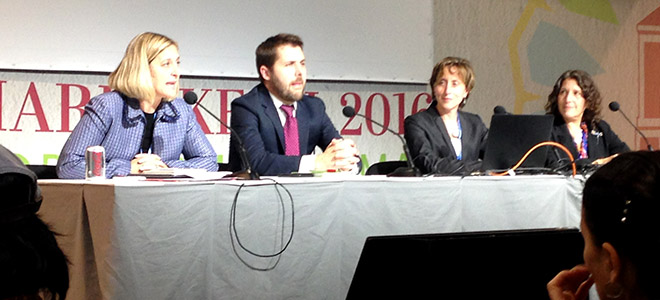 Senior climate and energy advisor Brian Deese participates in a side event with Deb Markowitz Secretary of Natural Resources for Vermont, and Diane Holdorf from Kellogg Corporation, moderated by World Resources Institute Global Energy Director Jennifer Layke on November 15th
Donald J. Trump may swim into these waters as a big fish (representing the US and approximately 16% of global greenhouse gas emissions). However, he will have to make some careful calculations as to whether it is wiser to swim with these strong currents, or to swim upstream against them.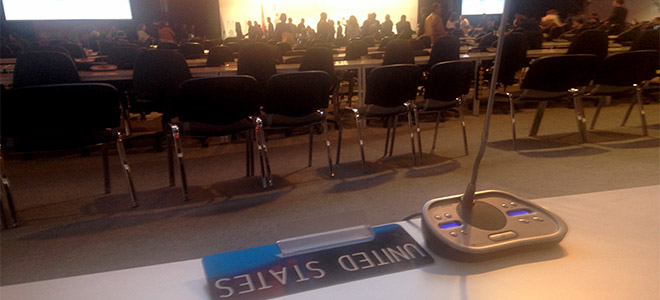 Despite the US being apparently turned upside down by the recent elections, members of the US delegation here in Marrakech have pressed forward with international climate policy cooperation
Representing the University of Colorado and the Cooperative Institute for Research in Environmental Sciences (CIRES), I have presented on three different panels during the week, hosted by Climate Outreach, the International Environmental Communication Association and EcoArts Connections. These have been opportunities to share work from research projects including the Media and Climate Change Observatory and Inside the Greenhouse, as well as from my own ongoing research in cultural politics and climate change. In addition, this has been an opportunity to listen, learn and connect with researchers, practitioners and delegates engaged in intersecting work at the climate science-policy and public interface.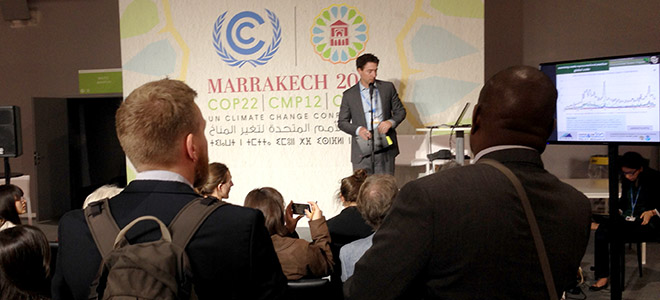 Speaking on Tuesday, Nov 15th about the Media and Climate Change Observatory in the International Environmental Communication Association side event on 'Communicating Climate Change: Engaging Communities through the Arts, Media, Messages, & Mediation' in the Climate Change Studio
As talks wrap up here in Marrakech, the work clearly continues. There won't be a second chance to get this right and time is not on our side.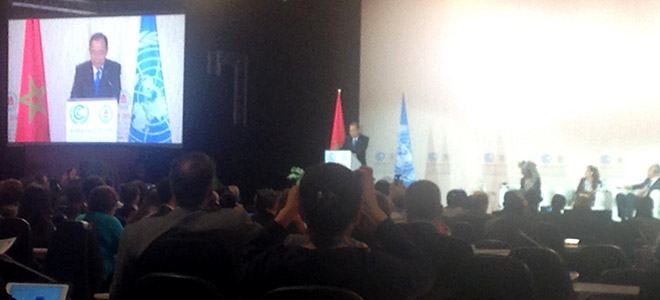 United Nations Secretary General Ban Ki-Moon addresses the COP in a wrap-up plenary session on November 17th