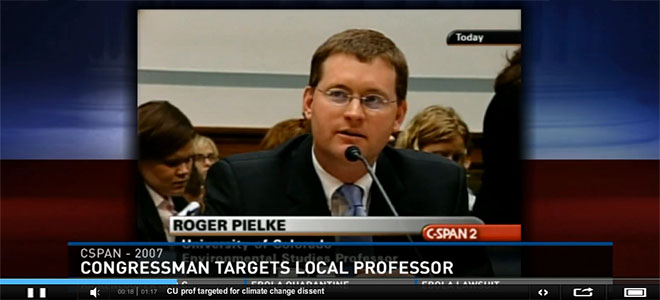 Roger Pielke, Jr. quoted in various media outlets on recent politically driven witch hunt:
9News
March 1, 2015
CU prof targeted for climate change dissent
by Kyle Clark
The University of Colorado is vigorously defending a professor targeted for investigation by a Democratic congressman after challenging an Obama administration belief on climate change.
Roger Pielke, Jr could hardly be described as a climate change denier. Pielke has called for a carbon tax to fund technological innovation and supported increased pollution regulations to push energy producers to develop cleaner fuels.
But Pielke disagrees with the Obama administration's view that the increasing costs of disasters can be linked to greenhouse gas emissions.
Pielke's July 2013 testimony to Congress drew the ire of Rep. Raul Grijalva (D-Ariz.). Grijalva is demanding that seven universities provide information about researchers' "potential conflicts of interest" suggesting that they might be funded by oil and gas interests. Read more …
—————————
Beacon Review
March 1, 2015
Roger Pielke Jr. of CU-Boulder targeted over research funding by congressman
A University of Colorado professor who's been a polarizing figure in the climate modify debate is being investigated by a Democratic congressman from Arizona more than irrespective of whether he's received study funding from fossil fuel organizations.
Each professor Roger Pielke Jr. who denies claims that he's a climate change skeptic and the CU administration on Wednesday said that's completely not the case.
"Professor Pielke is a very regarded faculty member who is clearly operating beneath the principles of academic freedom, which we strongly defend," CU Provost Russell Moore mentioned. "We stand behind him. His research has been funded by the National Science Foundation, National Oceanic and Atmospheric Administration and other credible organizations.
"None of his research has been funded by oil companies or fossil fuel interests." Read more …
—————————
The Weekly Standard
March 1, 2015
The Democratic War on Science
Roger Pielke Jr., a respected climate scientist at the University of Colorado, announced recently on his blog that he is being investigated by congressional Democrats. Rep. Raul Grijalva, the ranking Democrat on the House Committee on Natural Resources, sent a letter to the university demanding to see all disclosure policies that are applicable to Pielke, detailed information about any sources of external funding and grants he may have received, as well as any communications related to external funding. He also wants copies of any speeches and testimony before lawmakers Pielke has delivered, as well as salary and travel expense information.
Pielke is one of seven climate scientists being targeted by congressional Democrats. Why are these seven scientists being targeted? Well, the common thread is that all of them are skeptical, to one degree or another, of the claims made by global warming alarmists.
In the words of the Democratic spokesman for the natural resources committee, these seven scientists seem "to have the most impact on policy in the scientific community." It is a witch hunt, pure and simple. Grijalva and his fellow Democrats are abusing their power to try to dig up any information they can use to discredit these scientists and silence debate over the necessity of draconian government action to deal with climate change.
For his part, Pielke is standing firm, and it seems unlikely that the attacks on the tenured professor are going to do any damage. On his blog, Pielke has made it clear just how misguided this assault on him is:
The Congressman and his staff, along with compliant journalists, are busy characterizing me in public as a "climate skeptic" opposed to action on climate change. This of course is a lie. I have written a book calling for a carbon tax, I have publicly supported President Obama's proposed EPA carbon regulations, and I have just published another book strongly defending the scientific assessment of the IPCC [Intergovernmental Panel on Climate Change] with respect to disasters and climate change. All of this is public record, so the smears against me must be an intentional effort to delegitimize my academic research. .  .  . Congressman Grijalva doesn't have any evidence of any wrongdoing on my part, either ethical or legal, because there is none. Read more …
—————————
AZ Central
March 1, 2015
Green McCarthyism: Grijalva smears scientist
he term "McCarthyism" gets knocked around in a lot of weird ways, most of them only dimly reminiscent of the nasty, reputation-ruining havoc wreaked by Sen. Joe McCarthy during the Commie witch-hunts of the Fifties.
"Tailgunner Joe" ruined lives because he was powerful and used his power cruelly, publicly insinuating, often with no real evidence, that people coming before his committee were suspected Communists. For the innocent, it was a hellish time.
Not everyone gets that. But, you want real McCarthyism? I'll give you a real McCarthyite: Arizona Democratic Rep. Raul Grijalva. Now there's a McCarthyite.
Sirs and Madams, has this guy no shame? Doubt he does.
The ranking Democrat on the House Natural Resources Committee, Grijalva is sending out demand letters seeking information about climate scientists who have testified before his committee.
In at least one of his letters Grijalva cynically ties one mildly skeptical climate scientist to another well-known skeptic of conventional climate wisdom who has gotten himself into some hot water: Wei-Hock "Willie" Soon, who appears to have attempted to hide some of the sources of funding for his climate research — which, yes, appears to include energy companies and, double-yes, the Koch brothers (for some balance, see: here).
Grijalva, who never met a copper mine or oil pipeline he wouldn't oppose, is a greenie. A very green greenie. And greenies are notoriously intolerant these days of climate scientists who don't religiously toe the green line. Read more …