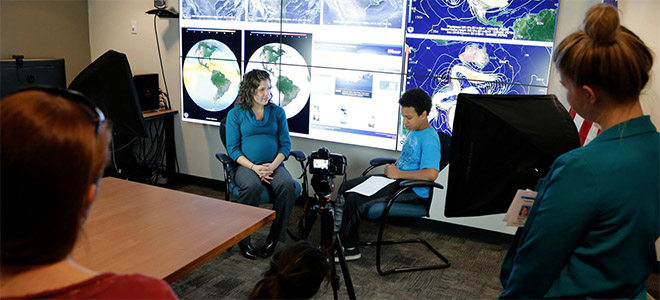 Student teams from around the state will meet up in Old Main Chapel Thursday, 12:30 pm, to present short videos they produced about climate and environmental changes in their communities. The program, "Lens on Climate Change," will also include "response" videos produced by CU Boulder students (and CSTPR's Inside the Greenhouse project). CIRES Director Waleed Abdalati will welcome the students and the jury.
Lens on Climate Change
Thursday, February 27 at 12:30 pm
Old Main Auditorium, University of Colorado Boulder
View Agenda
Description: Climate change and its societal impacts are widely discussed in the media (Boykoff & Nacu-Schmidt, 2013). However, recent surveys show that neither adults nor teenagers are well equipped to participate in public discussions about these topics due to a lack of knowledge about climate science (Leiserowitz, 2010, 2011). We propose to engage secondary students in learning about climate change through a video-contest. Student groups will select an environmental or climate change topic that affects their community. Teams will then be guided through their research, production, and editing of their videos by project staff and mentors. The participating teams' videos will be screened at the CIRES annual meeting in spring 2014.
Graduate and undergraduate students mentor the secondary student teams throughout their video production. Graduate student science mentors present their own research to the secondary students, and are a general resource for science questions. Graduate students gain valuable teaching experience with in-depth, personal group instruction. In addition, the graduate students receive instruction in photo and video equipment and editing, giving them tools to communicate their own scientific work.
Read Boulder Daily Camera's article "CIRES video project teaches students about climate change".