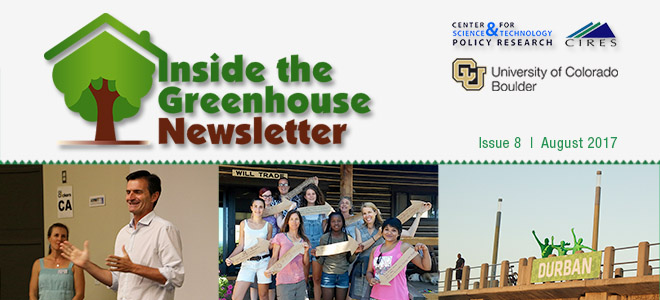 Issue 8 | August 2017
Subscribe to ITG Newsletters
In these uncertain times, Inside the Greenhouse works to deepen our understanding of how issues associated with climate change are/can be communicated, by creating artifacts through interactive theatre, film, fine art, performance art, television programming, and systematically appraising as well as extracting effective methods for multimodal climate communication. Through both research and practice in these ways, our efforts advance wider interdisciplinary academic communities to build capacity, competence and confidence in CU Boulder undergraduate and graduate student communicators with whom we primarily work. As we continue with these commitments to foster a deliberative space to co-create and analyze creative climate communications, we value and appreciate your ongoing support.
Enjoy our end-of-summer newsletter that highlights some of the many ongoing research, teaching and engagement endeavors we've been working on.
And if you're able to support our ongoing work, please visit our donation page to provide a tax-deductible gift. Any amount helps us as we work to meet people where they are 'inside the greenhouse'.
Up with hope,
Beth Osnes, Rebecca Safran and Max Boykoff
(Inside the Greenhouse co-directors)
Course Spotlight
This summer, through the Faculty in Residence Summer Teaching Program (FIRST) in the Office of Continuing Education, the Environmental Studies program and Inside the Greenhouse hosted Professor Bienvenido Leon from the University of Navarra (Spain) to CU Boulder to teach a course he called 'How to Effectively Represent Climate Change in a 21st Century Multi-Media World'. During his time in Boulder he also presented on 'New Coordinates for Environmental Documentary' as part of the Center for Science and Technology Policy Research (CSTPR) Fall seminar series (follow the link to watch the archived webcast of his talk) and to take part in the Lens on Climate Change summer film festival held in the Atlas Institute on campus.
Prof Bienvenido Leon recounts his experiences for us here: "Communicating climate change is not an easy task. In fact, the media have not done a good job in communicating it: they have simply failed in transmitting the existing scientific consensus and promoting public awareness and engagement. But, in my view, there is still hope. The Internet tsunami has provoked a profound change in social communication and has offered a new range of options, based on new tools and formats that can be very effective to communicate this process. The course "How to effectively communicate climate change in a 21st century multi-media world" was taught at CSTPR from July 11th to August 11th. It focused on the possibilities offered by online video; a tool of immense potential that it is easy to produce and can reach huge audiences. Read more …
Event Highlights
The Inaugural Women's Energy Party: in Paonia Colorado, summer 2017
Young women in their twenties and early thirties are often at the point in their life where they are making personal choices that are going to lock them into certain levels of energy consumption and climate impact. Inside the Greenhouse's recipe for a women's gathering sought to invigorate thoughtful consideration of what kind of energy/climate story young women want to tell with their lives.
For the 2017 ITG Summer Internship, Stephanie Selz and Ellie Milner made a short film featuring young women in Paonia, Colorado area getting together in Colorado's beautiful North Fork Valley to use creative, participatory activities to explore and tell a new story of energy.
This all took place on the Boland family farm in Hotchkiss, CO. After enjoying pizza's fresh from an outdoor clay oven, attendees used participatory activities, songs, and sharing of personal stories to advance us in our efforts. Several of the participants camped in the field under a canopy of stars. After breakfast the next morning, participants continued activities and culminated with a shared lunch featuring food grown on the farm. The entire experience was emotionally enriching, aesthetically stirring, and fun. Each participant left with actions they had authored to tell a sustainable story of energy with their lives.
Participatory Photography Project Exhibit at CU Art Museum Fall 2017
Green Suits Your City is a participatory photography project by Inside the Greenhouse that infuses embodied creativity into the greening of our cities. It is a collection of photographs from cities around the world by over fifty different photographers of people in full green suits in nearly every pose imaginable. As part of this exhibit, visitors are invited to check out a green suit with a leafy sash and submit a photograph of themselves or a friend in some iconic place in their city. This interactive project is designed to engage the participation of a wider constituency in the greening of our cities. Placing actual bodies in service of this vision marks the commitment to joyful acts that will inspire action on behalf of environmental resilience. Sometimes it takes a literal representation of an idea to make it real. Both the process of taking the photos and the photographs themselves spark conversation, and are a part of an ongoing effort to infuse embodied fun and broad engagement in resilience planning.
The opening reception for the exhibit is set to take place at CU's Art Museum on Thursday September 7, 2017 from 5-7PM. The project will be on display from August 17th until October 28th, 2017.
Field Notes

In May 2017, ITG co-founder and co-director Becca Safran traveled to China for research. Now back in Boulder for start of the academic year, she offers these observations and reflections:
"I am guessing that when most of us think of China, the images that first come to mind are of huge, populated cities and industrial areas. Indeed, China is a HUGE country and the scale of human density and manufacturing is immense. I had the opportunity to travel through China in May. I got to see some of the largest cities in the world, which happen to be in China, but also to travel far outside of them in a remote province that is situated north of the Tibetan Plateau and south of the Gobi Desert. By Chinese standards, the Gansu Province is not a highly-populated region of this immense country: its 175,460 square miles is home to about 25 and a half million people which amounts to about 150 people per each square mile. Compare that to the density of our home state of Colorado which is about 50 people per square mile and you'll easily get a sense that even in the farthest regions of China, there are lots of people. OK, so yes: confirmed. There are a lot of people in China and this is not surprising."
"For one, the public transport systems in place to move all of these people around is quite admirable. As of 1994, car ownership has been encouraged in China which has its ups and downs. That said, the use of electric scooters and cars appears to be more mainstream in China compared to what I see around here. According to one source, China registered more than twice the number of electric vehicles (more than 300,000) than those in the US in the year 2016 alone." Read more …