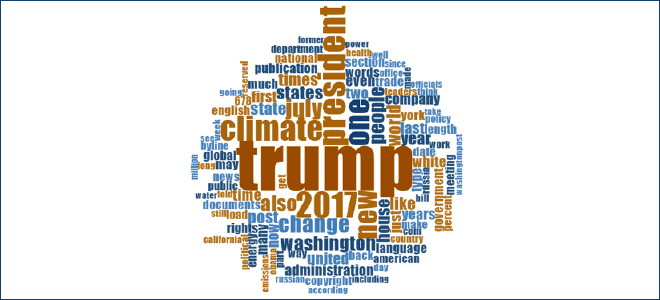 Media and Climate Change Observatory (MeCCO)
July 2017 Summary
July 2017 coverage of climate change and global warming consistently dropped in regions around the world. Compared to June 2017, coverage was down about 27% globally. However, June was a month of comparatively high levels of coverage, due mainly to the news surrounding United States (US) President Donald Trump's withdrawal from the 2015 United Nations (UN) Paris Climate Agreement on the first day of that month. July's counts from fifty-two sources across twenty-eight countries in seven regions around the world were on par with the average number of articles on climate change or global warming appearing each month to date in 2017 (there have been approximately 2304 stories/month from January – July 2017). July 2017 articles were up 23% from July coverage in the previous year.
Figure 1 illustrates that coverage around the world has continued to ebb and flow in 2017. Much attention in July 2017 continued to be on events and developments associated with the US Trump Administration. Figure 2 shows frequency of words in articles across the US in July 2017. The word 'Trump' was invoked 5035 times through the 376 stories this month in The Washington Post, The Wall Street Journal, The New York Times, USA Today, and the Los Angeles Times. This effectively furthered the 'Trump Dump' that has been mentioned in previous summaries. Comparing this with other prominent personalities, in US coverage former US President Obama was mentioned 526 times, French President Macron (with whom US President Trump met on July 13) was mentioned 441 times, and Russian Prime Minister Putin (with whom US President Trump met at the July 7th-8th G20 Summit) was mentioned 444 times.
The most prominent political news in July 2017 was tethered to the July 7th-8th G20 Summit in Hamburg, Germany, in the context of Trump's first encounter with world leaders since his announcement of plans for a US withdrawal from the Paris Climate Agreement. At the Summit, despite concerns articulated in some news pieces that other nations may follow a US tact, world leaders of the G19 'took note' of the US exit and announced ongoing unity in their commitments for action on climate change. The final communique from the G20 Summit read "The leaders from the other G20 members state that the Paris Agreement is irreversible", while criticism of the Trump administration stance was widespread in the media both in the US and around the world. For example, in The Wall Street Journal former World Bank Chief Economist and Harvard University President Lawrence Summers expressed dismay regarding Trump's rejection "of the concept of global community". Many news stories covered other world leader statements of ongoing support for the Paris Accord, including G20 Summit host and German Chancellor Angela Merkel, and Chinese President Xi Jinping. Chinese Foreign Minister Wang Yi expressed President Jinping's ongoing support for international cooperation in the form of the Paris Agreement to seek "solutions to the common challenges we face… as both a participant and a leader". Further boomerang climate politics and policy engagement came at the US national and sub-national levels in July. For example, Environmental Protection Agency (EPA) Administrator Scott Pruitt introduced a military-strategy-style 'red team, blue team' approach to evaluating climate research for policy applications. Administrator Pruitt proposed television debates to 'advance science' in the public arena and this proposal was met with resounding criticism in the days that followed in July. Also in the US in July, the 'We Are Still In' campaign to address climate change – a coalition of US states, cities and businesses – garnered media interest. For example, Hiroko Tabuchi and Lisa Friedman from The New York Times wrote about how these groups were working with outside experts to quantify their planned reductions in greenhouse gas emissions by the time of the next round of UN climate negotiations. At the sub-national level, Governor Jerry Brown from the US State of California announced that he will host a September 2018 'Global Climate Action Summit'. That this event would take place on US soil amidst US Trump administration obstinacy on climate policy action generated a number of media accounts. Read more …
Figure caption: A word cloud showing frequency of words invoked in media coverage of climate change or global warming in the United States in July 2017. Data are from five US sources (The Washington Post, The Wall Street Journal, The New York Times, USA Today, and the Los Angeles Times).