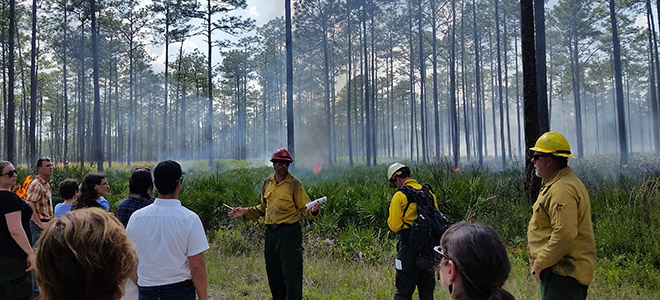 Jeremiah Osborne-Gowey, Doctoral Student, Environmental Design and Environmental Studies
Bruce Goldstein, Associate Professor, Environmental Design and Environmental Studies
As part of our research program into the transformative potential of learning networks, wevisited a range of communities affiliated with the Fire Adapted Communities Learning Network, a network of communities that exchange information, collaborate to enhance the practice of fire adaptation, and work together at multiple scales to live more safely with fire. As part of this work, we have developed an informal 4-part typology of community fire-adaptation practices:
communications and messaging,
relationship and trust-building,
projects and practices, and
co-management of fire risk.
In this blog post, we briefly illustrate these practices, and describe how they can help communities more safely live with and manage fire risk.
Communications and Messaging
Communities engage in a range of communications about their efforts to decrease risks, restore the social, ecological, and economic integrity of communities, and efforts to learn how to better live with fire. On popular approach is to offer the public a wildfire adaptation toolkit to help businesses and homeowners prepare for and deal with pre- and post-fire impacts.
Relationship and Trust Building
Forging connections and building relationships and trust are essential for efforts to promote fire-adapted concepts at the community scale. In addition, community organizers often seek to connect to external partners in order to expand their capacity to restore forest health, improve species habitats, leverage existing capacities and resources, create educational and outreach programs and develop management plans for private landowners.
Projects and Practices
Fire-adapted actions are most easily visible in communities when fuels reduction and fire mitigation projects are actually carried out. This is where the communication and messaging combine with relationship and trust building to build enough collective will for changes in wildfire practice, such as prescribed burning. Organizers often coordinate activities like community wildfire protection workdays where landowners can sign up for home and landscape assessments and participate in fuels reduction activities.
Co-management of Fire Risk
Wildfire risk occurs at various scales and under different social, ecological and political contexts both in communities and across landscapes. An important aspect of changed practice is moving toward shared responsibility of wildfire risk, or co-management. Cutting across jurisdictional various scales and social and ecological contexts is a key focus of the National Cohesive Wildland Fire Management Strategy, which seeks solutions to wildfire management issues and provides direction for wildfire practice in the United States. Across the fire landscape, communities are working toward co-management of fire risk using a number of approaches, such as incorporating cultural values in community decision-making and practice or managing at the watershed scale.
Summary and Conclusions
We think of fire adaptation in communities in fire-prone landscapes in the United States as occurring through these four kinds of practice: 1) communications and messaging, 2) relationship and trust-building, 3) projects and practices, and 4) co-management of fire risk. While these categories provide a framework for differentiating types of activities, they also enable us to develop an integrative perspective on community fire adaptation. For example, many communities are now hosting chipper and fuel reduction workdays, which are practices and projects that include substantive "communication and messaging" in the community. Events like these serve as an incubator for trust-building, which is foundational for co-management activities.