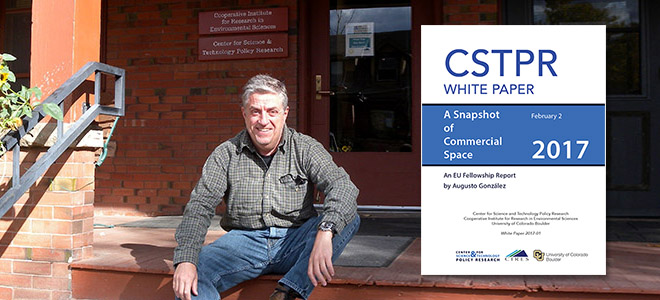 by Augusto González
Center for Science and Technology Policy Research (CSTPR) White Paper
2017-01, 30 pp.
Colorado has a vibrant aerospace sector and tightly knit community of dynamic aerospace stakeholders from academia, government and industry, which provides an excellent environment to investigate the subject of this report. The report is based primarily on input gathered through face to face interviews, informal discussions and attendance at several relevant events, from August 15th to December 15th, 2016.
In so far as possible, I have tried to identify the sources for specific input reflected in the report. However, this is not always possible as, at times, the same idea has been echoed by several people or it has emerged from one of the numerous informal conversations.
There is, of course, a little bit of my own observations and perceptions, as well as a personal attempt at organising the main ideas emerging from my discussions. The final section reflects exclusively my own personal views.
There are excellent descriptions of the Colorado aerospace sector in the web pages of the Metro Denver Economic Development Corporation or those of the Colorado Office for Economic Development and International Trade.
In order to put this report into context, I would highlight that Colorado has nearly 170 businesses classified as aerospace companies, and more than 400 companies and suppliers providing space-related products and services. Direct employment in the aerospace cluster totals 25.120 private sector workers. Colorado ranks first in the U.S. in terms of aerospace employment as a percentage of total employment and second in total private-sector employment (Metro Denver Economic Development Corporation 2016).
Colorado boasts world-class universities and research intuitions that provide highly skilled workforce to aerospace industry and play a role of their own in designing, developing and running space missions. University of Colorado ranks first in the U.S. in terms of funding received from NASA.
Last but not least, the presence of several aerospace defence facilities and federal agencies contribute to the development of the aerospace industry as well as to the positive synergies between academia, industry and government.
In the words of Maj. Gen. (Ret.) Jay Lindell (2016a), Colorado's Aerospace and Defence Champion, the key to the attractiveness of Colorado for aerospace companies is the favourable business climate (a notion that encompasses all elements that determine cost as well as ease of establishing and operating a business). Colorado competes well with Silicon Valley in terms of access to talent and living conditions in Colorado (not least its natural environment) are attractive to the highly educated type of people aerospace industry employs.
To conclude this introduction, I would like to pay special tribute to Dr Max Boykoff, Director of the Center for Science and Technology Policy Research (CSTPR), who was my faculty host during my stay in Boulder. CSTPR provides a unique cross-disciplinary space where researchers can pursue science-technology-policy endeavours to fulfil that mission to improve how science and technology policies and politics meet societal needs. As Dr Boykoff points out, data obtained from space is critically important for environmental sciences and essential in science-based policy formulation and decision making for environment as well as for climate change mitigation and adaptation; he believes it is important for CSTPR to reinforce its capacity to tap the potential of remote sensing big data analytics. Dr Boykoff concurs with the opinion that the demand for interpretative data products and services, many of which may have environmental applications, will continue to grow and this is likely to have a positive impact in the development of commercial space. Read the full report.