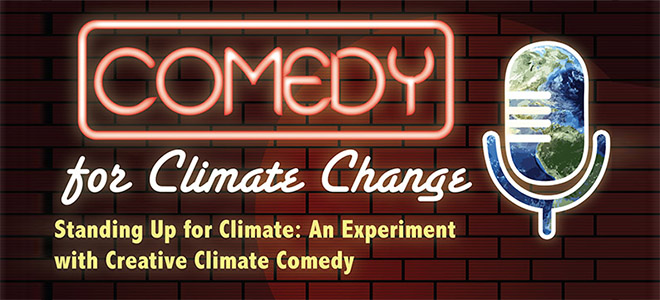 Standing Up for Climate: An Experiment with Creative Climate Comedy
(co-sponsored by The Center of the American West)
1st place: $400 prize
2nd place: $250
3rd place: $100
Competition Details
Humor is a tool underutilized in the area of climate change; yet comedy has power to effectively connect people, information, ideas, and new ways of thinking/acting.
In this call, we seek to harness the powers of climate comedy through compelling, resonant and meaningful VIDEOS – up to 3 minutes in length – to meet people where they are, and open them up to new and creative engagement. We are especially interested in pieces that deal with issues related to the American West.
The winning entry will receive a cash prize, and be shown during the upcoming 'Stand Up for Climate: An Experiment with Creative Climate Comedy' night on March 17 on the University of Colorado campus in Boulder, Colorado. The event will feature a range of comedic approaches, including stand-up comedy, sketch and situational comedy, and improv.
The primary audience will be University students along with members of the community in Boulder, Colorado (no age restrictions will be in place).