(Click here for English version)
УБ-ын агаарын чанарын талаар тоо мэдээллийг хоёр төрлийн харилцан адилгүй шугамаар хүлээн авах боломжтой боллоо: Twitter-дэх @UB_Air гэсэн хаягаар мөн Facebook дэх: Ulaanbaatar Air Quality гэсэн хуудсаар.  ArsSollertia-ийн Joe Flasher нь гайхалтай API-г бүтээсэн бөгөөд энэ нь  УБ хотын агаарын чанарын веб хуудсанд мэдээлэгдсэн агаарын чанарын тоог уншиж Twitter-т нэн даруй мэдээллэж байх юм.  Энэ нь агаарын бохирдлын талаар мэдээллийг тухай бүрт олон нийтэд мэдээллэх гайхалтай бөгөөд хүчирхэг арга зам юм. – энэ нь яагаад тийм чухал болохыг тайлбарласан мэдээллийг та бүхэнд удахгүй хүргэх болно (хэрвээ та хүлээж чадахгүй бол агаарын чанарын талаар мэдээллэх tweet-ийн арга хэрэгсэл нь Бээжин хотын агаарын чанарын мониторингийн дэд бүтцийг хэрхэн орвонгоор нь өөрчилж томруулж чадсан талаар нийтлэлийг уншиж болох юм.). Энэ хооронд tweet болон Facebook дэх тоо мэдээлэл нь ямар учиртай болохыг тайлбарлая.
Доор @UB_Air дахь мэдээллүүд Монгол болон Англиар хэрхэн харагдахыг харуулав.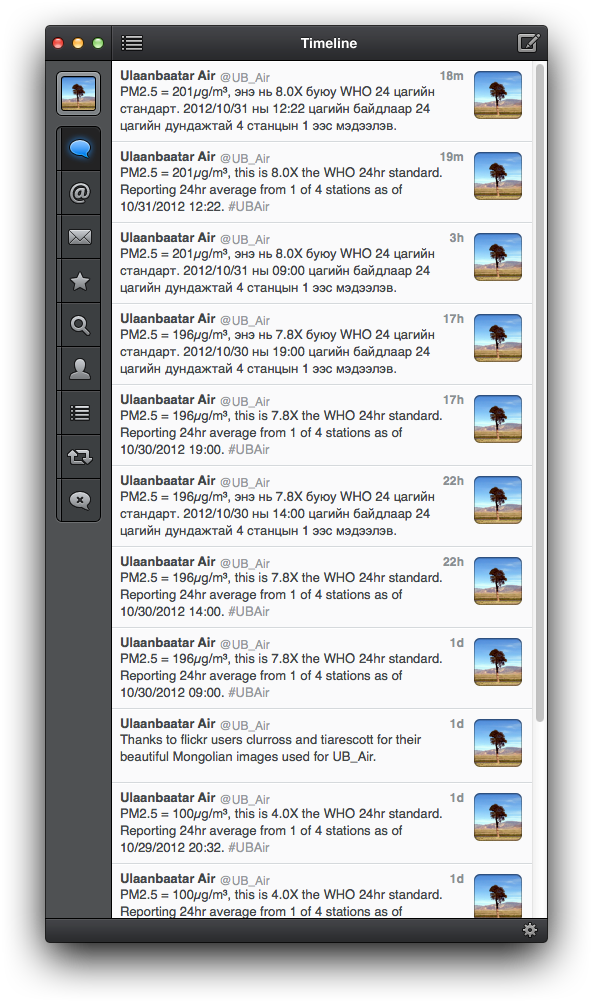 Twitter-дэх @UB_Air хуудсанд өдөрт 3 удаа (өглөөний 9 цаг, өдөр 2 цагт, оройн 7 цагт), энэхүү хуудсанд тавигдсан УБ-ийн агаарын чанарын станцуудын хэмжилт хийсэн PM2.5-ийн үзүүлэлтийн дундаж утгыг мэдээллэх юм. Харамсалтай нь яг үүнийг бичиж байх үед зөвхөн нэг станц л мэдээллээ өгсөн байна. (Нисэх онгоцны буудлын ойрх станц хэдэн өдрийн турш энэ үзүүлэлтийг "0.000" гэж үзүүлж байгаа нь одоогийн Улаанбаатарын нөхцөл байдалд үнэмшилгүй тоо учир уг станц нь эвдэрсэн гэж үзэж болохоор байна. Тиймээс яг одоо мэдээлж буй тоог дундаж гэж хэлж болохгүй байх).
Доор үзүүлсэн зурагт  (зургийг томруулахыг хүсвэл дээр нь дарна уу), tweets/Facebook-ийн хуудсуудаар дамжуулан мэдээлж буй мэдээлэл нь ямар утга учиртай болохыг тайлбарласан болно: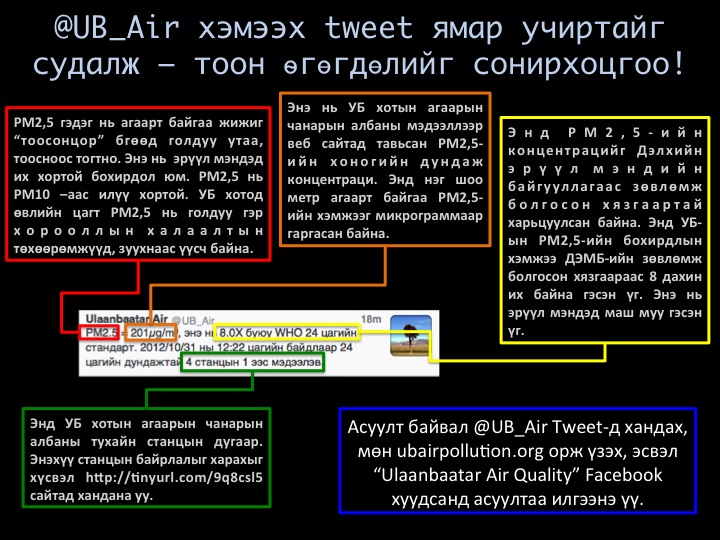 Эдгээр мэдээллийг авах нь яагаад тийм чухал болохыг тайлбарласан нийтлэлийг хүлээн авахдаа бэлэн байгаарай!
Одоо  эдгээр тоо мэдээллийг тухай бүрт авна уу!
Twitter-ийн холбогдох хуудас: @UB_Air
Facebook-ийн холбогдох хуудас: Ulaanbaatar Air Quality
Веб хуудас: UBAirPollution.org
You can now access air quality data in UB through two different pieces of social media: @UB_Air on Twitter and a Facebook Page: Ulaanbaatar Air Quality.  Joe Flasher of Ars Sollertia created the wonderful API that reads data reported on the UB City Air Quality website and set up the Twitter Feed. This is an incredible and powerful way of getting timely air pollution information out to the public – stay tuned for an upcoming post, detailing exactly WHY this is so important (If you can't wait, check out this article on how one tweeting-air quality instrument in Beijing has entirely re-vamped and expanded the city's air quality monitoring infrastructure) (UPDATE: Here is that article on why). Meanwhile, let's break down WHAT the data means in the tweets and Facebook posts.
Here is what @UB_Air posts look like in Mongolian and English: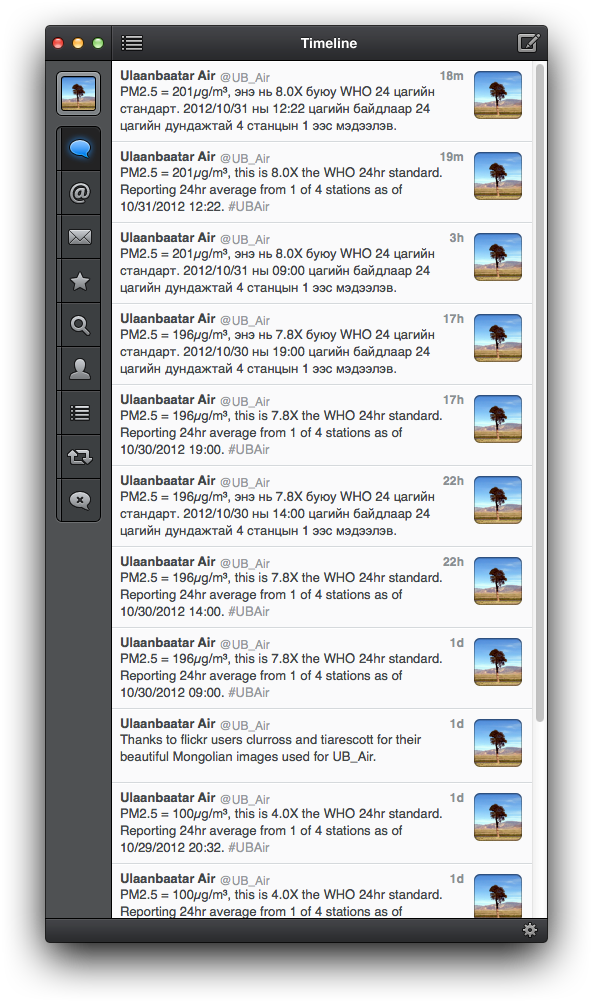 @UB_Air tweets out three times a day (9am, 2pm, and 7pm), and reports the daily average PM2.5 from reporting UB Air Quality stations that are posted on this page. Unfortunately, only one station (MNB) is reporting at the time of this writing (the Nisekh – airport – station is likely broken, as it has been reading out "0.000" for readings for several days and that is a highly unlikely value at this time of year or in UB, in general, so it is not currently considered in the average).
The image below (click to make larger), breaks down what information the tweets/Facebook posts are conveying: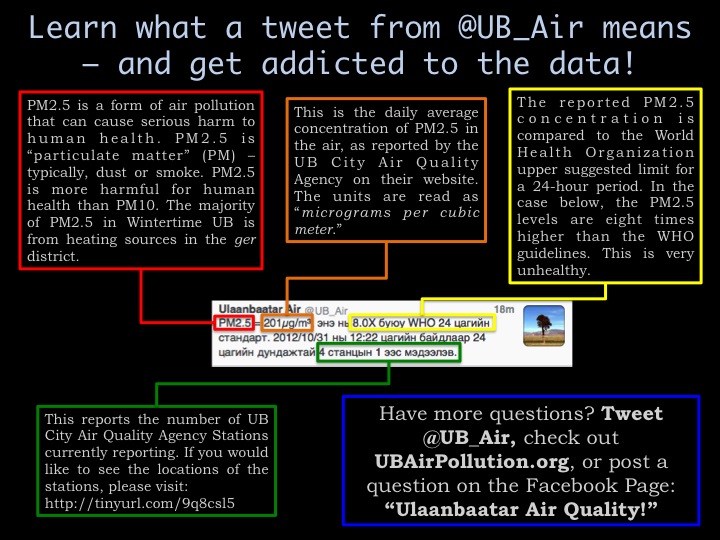 Please stay tuned for a post that addresses WHY it is so important for YOU to have access to this data!
Now go get "addicted to the data!"
Twitter Feed: @UB_Air
Facebook Page: Ulaanbaatar Air Quality
Website: UBAirPollution.org