Dear FIREXers;
We made it to Fire050 today and we marked the special occasion with some very interesting burns today! The big fire was the FASMEE fuel Subalpine Fir from Fish Lake. In the afternoon we had a burn of excelsior, which is a very high cellulose fuel with very low nitrogen content, and then as a contrast a burn of dung with a very high nitrogen content. The emissions of those two fuels looked very different and so did the aging experiments.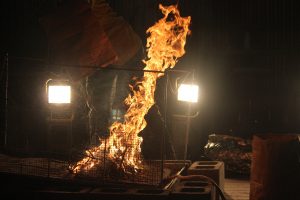 Tomorrow we will have the Engelmann Spruce as the big burn.
Today also marked the 2nd birthday of the H3O+CIMS and the dung burn was its special present.
Again, please let us know if you are coming to the Oct 28 Science Meeting if you haven't already done so.
Thanks,
Jim, Carsten and Bob