Flying 5 of 6 days as the Ronald H. Brown sets sailFebruary 17, 2016by Ryan Spackman (STC and NOAA)
---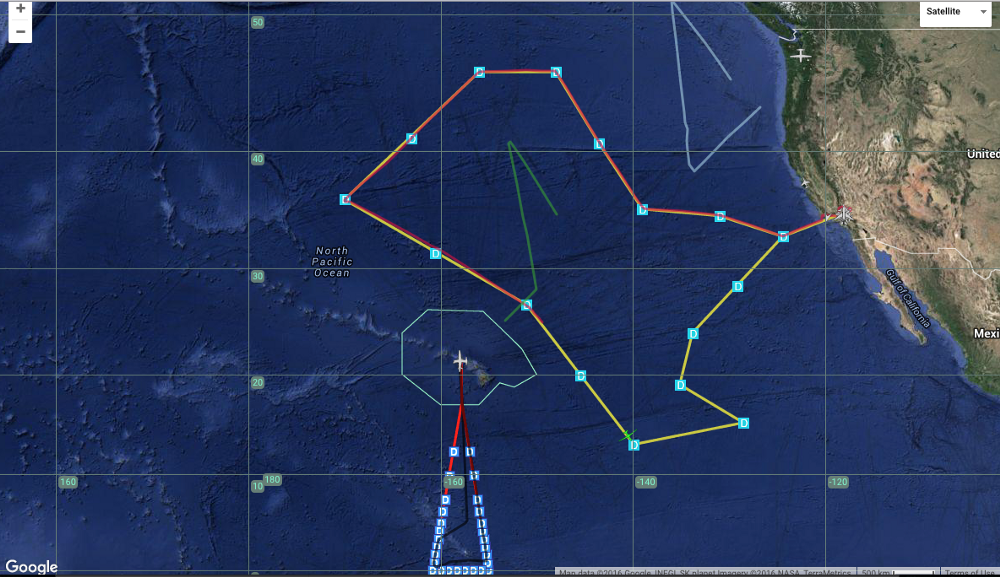 Flying 5 of 6 days as the Ronald H. Brown sets sail
February 17, 2016by Ryan Spackman (STC and NOAA)
HONOLULU, Hawaii — Here's a quick update on the ENRR Field Campaign. The NOAA G-IV has flown 5 out of the last 6 days and is now returning from a highly successful flight. On today's flight, the G-IV routinely observed 45 to 60 kt southerly winds along the entire 4N zonal transect (from 158W to 172W) associated with the large-scale convective complex (big cluster of showers and thunderstorms) south of the equator.
The NOAA Research Ship Ronald H. Brown (RHB) departed Ford Island (Pearl Harbor) midday on Tuesday, with plans to launch rawinsondes (radiosondes tracked by a radio direction-finding device to determine the velocity of winds aloft) up to 8 times daily over the next 30 day TAO (Tropical Atmosphere Ocean) survey cruise southeast of Hawaii along 140W and 125W in the deep tropics, a mostly data-sparse region important to El Niño phenomena.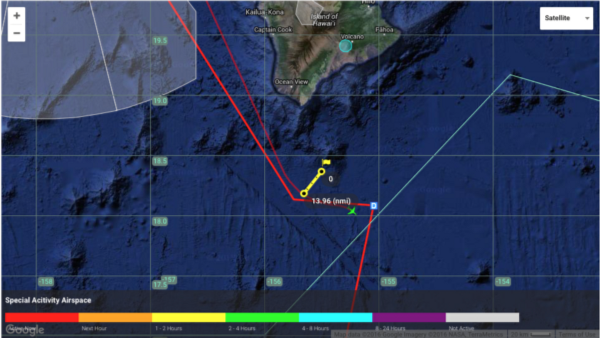 In this screenshot, the flag marks the position of the Ronald H. Brown.
On today's G-IV flight, we also completed a sonde intercomparison south of the big island — the G-IV released a dropsonde 15 nautical miles southwest of the RHB at 11:25 am local time (LT), and the RHB team launched a sonde at 11:32 am LT in rough seas. We expect the northeast flow near the surface and the strong southwest flow aloft will give us a good intercomparison in the lower-to-middle troposphere.
We have filed another flight plan for the G-IV tomorrow — we want to encircle convection south of Hawaii at the Intertropical Convergence Zone, the area encircling the earth near the equator where the northeast and southeast trade winds come together, the last sortie in a productive intensive observing period for ENRR.
The image at the top shows the mission on Monday, February 15 with all four research aircraft airborne: the NOAA G-IV (in the tropics), the NASA Global Hawk, and the Air Force Reconnaissance C-130Js (making transects to the northeast of Hawaii).
The G-IV crew will go hard down this Friday or Saturday. In California, the next flight for the Global Hawk is planned for Saturday.