Waiting for a stormFebruary 12, 2016by Rob Cifelli (NOAA)
---

X-band radar system installed at the Penitencia Water Treatment Plant in Santa Clara, California (Credit: Francesc Junyent, CIRA)
Waiting for a storm
February 12, 2016by Rob Cifelli (NOAA)
SANTA CLARA, California — It's been quiet in the San Francisco Bay area this last week. The rains have stopped for the moment, but if this El Niño behaves anything like previous events, we expect the rains to come again soon.
On February 4, an X-band radar system was installed at the Penitencia Water Treatment Plant in Santa Clara, California. Far away from the G-IV, the Ron Brown, and radiosondes at Kiritimati, Santa Clara may seem like a strange place to put a radar for NOAA's El Niño Rapid Response field campaign. Yet, California is where we expect the "rubber to hit the road" in terms of impacts: heavy rain and flooding. This X-band radar is owned and operated by NOAA's Cooperative Institute for Research in the Atmosphere (CIRA), and will be watching the skies over Santa Clara through the end of April.
Why do we need this little radar? To augment the NEXRAD (Next-Generation Radar, a network of 160 high-resolution S-band Doppler weather radars operated by the National Weather Service, part of NOAA) coverage in the Bay-area urban environment. Lots of hills and proximity to maritime conditions make the Bay region a challenging place to monitor and predict storms. NOAA wants to determine how rainfall estimation and short-term predictions can be improved using one of these units. On top of that, this year's Super Bowl was held in Santa Clara, bringing lots of national attention to the region. This radar helped the NWS with improved "situational awareness."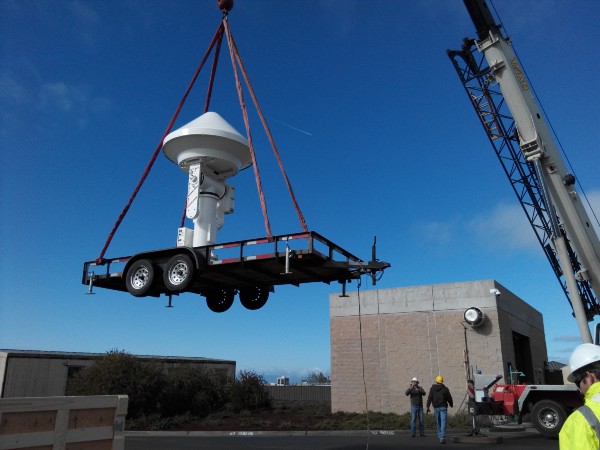 Credit: Haonan Chen, CIRA
Don't be fooled by its size. These radars have proved their worth in measuring rainfall in other urban regions. Dallas-Fort Worth, Tokyo, Seoul and other cities have adopted the technology because they measure rainfall very accurately and are relatively easy to deploy. Also, they provide very high resolution data: every 60 seconds, the radar produces a snapshot of the rain every 150m x 150m in a circle extending out to about 40 km. The downside is that they don't see as far as a NEXRAD, so the trick is to find a location where the X-band radar can best augment the NEXRAD coverage.
Everyone agreed that an additional radar to keep an eye on storms and monitor rainfall in the Bay area was a great idea. But bringing the radar to Santa Clara was no easy feat, and finding a place with a good view, access to power and the internet was the hard part. Luckily, the Santa Clara Valley Water District had a good site and was willing to host the radar.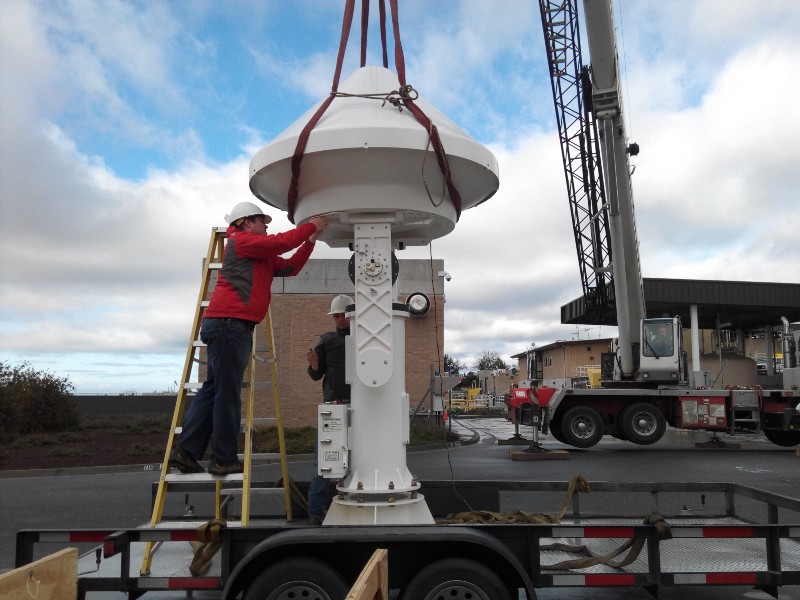 Credit: Haonan Chen, CIRA
The next challenge: could it be installed before the Super Bowl? It came down to the wire: an agreement was signed on January 29. The radar was shipped on January 30 from Fort Collins, Colorado and arrived on February 1. The CIRA staff from Colorado State University worked quickly and efficiently, getting the radar up and running by Thursday, February 4 — with three days to spare!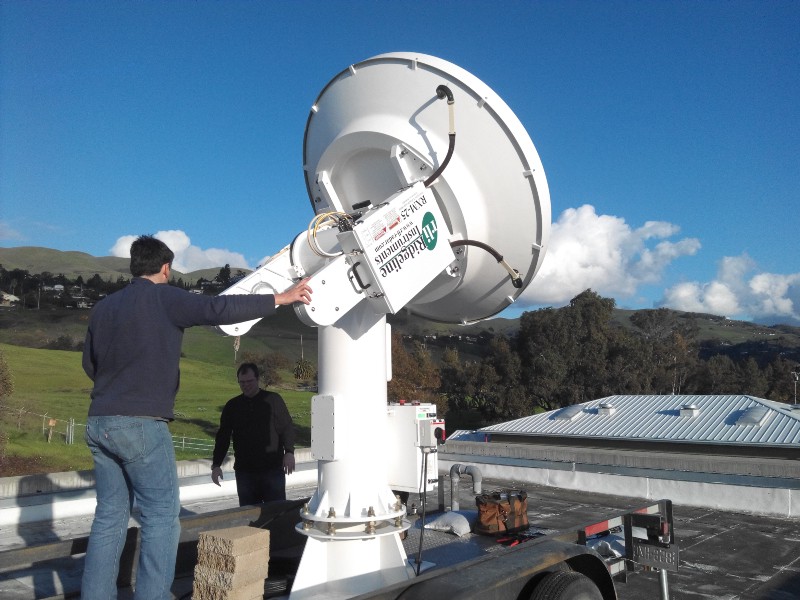 Credit: Haonan Chen, CIRA
As luck would have it, the radar arrived during a time when the rains decided to take a break. So last Sunday's Super Bowl took place under nice sunny weather — great for football fans, but lousy for scientists interested in measuring rainfall.
So now we wait.…