Q&A with Mike Holmes, flight directorFebruary 5, 2016Interview by Lisa Darby, NOAA
---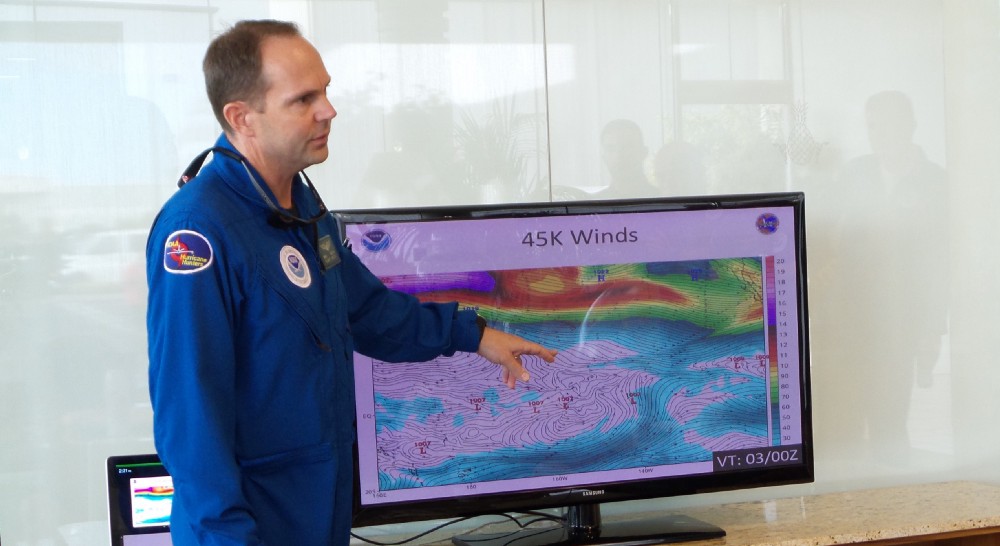 Q&A with Mike Holmes, flight director
February 5, 2016Interview by Lisa Darby, NOAA
LD: What's your educational background?
MH: BS Meteorology, University of Utah, MS Atmospheric Science, Air Force Institute of Technology, Dayton OH
LD: Are you a member of the NOAA Corps?
MH: No, but I did spend 22 years in the USAF as a weather officer, the bulk of which was spent supporting DoD operations. That operational weather experience certainly helped prepare me for the duties of a flight director.
LD: What's the most difficult decision you had to make, or most tense situation you had to deal with, during a flight?
MH: Safety-of-flight decisions during the execution phase (while in flight) are all challenging, so it is difficult for me to discern one scenario from another. I like to think that the flight director's role is to eliminate risk associated with weather (to the extent that science and technology will allow). To do this, we scrutinize all data available to us (aircraft radar, satellite, in situ data, etc) in an effort to develop an understanding of the flight weather conditions that are ahead of us. In the case you describe above, I did not have a comprehensive picture of what lay ahead, so in an effort to eliminate risk, I recommended we turn back. LCDR Moyers Agreed. It was the prudent decision.
The tensest situation I've had as a flight director was during the two [hurricane] eyewall penetrations we accomplished flying on our WP3 in Hurricane Patricia, 23 Oct 2015. Hurricane Patricia was an extraordinary storm, which was documented by the 879-mb extrapolated minimum central pressure we recorded on the sonde we dropped in the center of the 5- mile diameter eye during the first center fix.
LD: Are ENRR flights boring compared to hurricane flights?
MH: Not in the least. In fact the ENRR missions present some very unique challenges. Flying in very remote regions of the Pacific around both organized and unorganized convection with tops above 55K to 60K feet is extremely challenging.
LD: What do you love about this job?
MH: The diversity of scientific research we support keeps the job fresh and I enjoy that very much. But what I like most about the job are the people I work with and the scientists we support. The crews on AOC aircraft are comprised of folks who perform at the pinnacle of their particular discipline (pilots, maintenance, engineers, technicians, etc). Moreover, we have the great luxury to work with some brilliant scientists (the ENRR team is a wonderful example). It's a great job!
By CIRES on February 5, 2016.
Exported from Medium on January 12, 2017.