ENRR-FC update: Mission accomplishedFebruary 3, 2016by Ryan Spackman (STC and NOAA)
---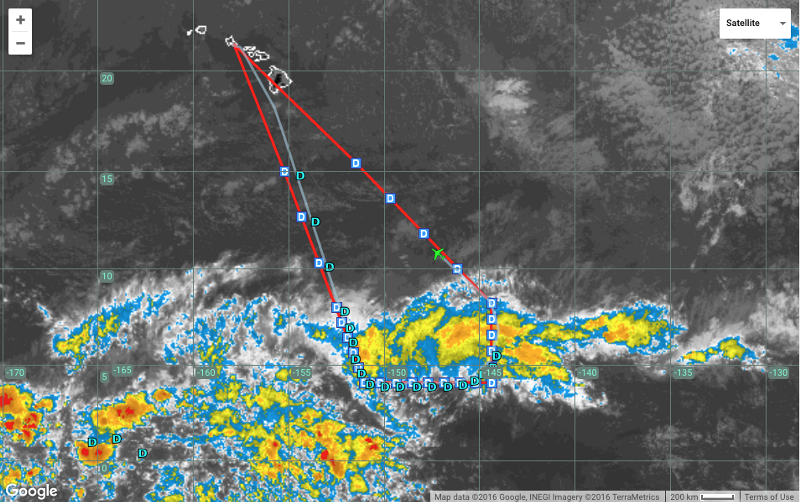 ENRR-FC update: Mission accomplished
February 3, 2016by Ryan Spackman (STC and NOAA)
HONOLULU, HAWAII — Thanks to the NOAA 49 crew for a spectacular flight today (Wednesday)!
The nose radar worked brilliantly, enabling the crew to navigate around convective towers along and near the flight track. This screenshot (from the Mission Tool Suite or MTS) shows the G-IV position shortly after completing a successful circuit around a convective complex to the southeast of Hawaii positioned near 6N, 148W. The G-IV dropped 26 dropsondes, at 50-mile spacing around the complex during the 7.2 hour flight.
Yesterday (Tuesday), the G-IV flew a 7.7 hour flight releasing 13 sondes in an attempt to wrap around convection to the south of Hawaii. Unlike the typical diurnal trend, convection unexpectedly increased in intensity during the flight at the SE corner of the "house," pre-empting a full circuit of the convection. The Tail Doppler Radar painted long swaths of precipitation along the walls of the house the G-IV flew.
After 2 busy flight days, we will stand down on Thursday since the latest models suggest that most of the convective targets will persist too far south and west of our theater of operations. We'll be carefully evaluating prospects for a Friday flight during the ENRR daily briefing on Thursday morning.
By CIRES on February 5, 2016.
Exported from Medium on January 12, 2017.