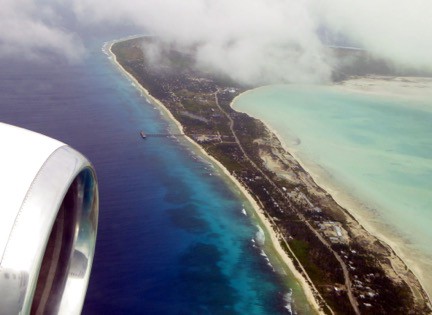 January 25, 2016
by Paul Johnston (CIRES)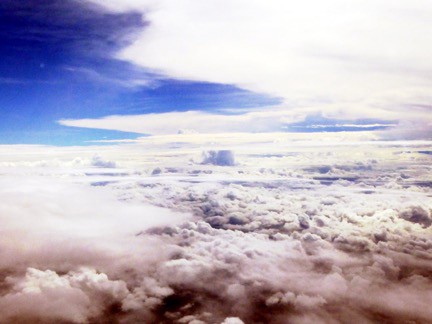 KIRITIMATI ISLAND, Kiribati — We started the day at the Honolulu airport at 4 AM Hawaii Time on January 24th. My colleague Scott Abbott was the first customer at Starbucks, opening at 5AM. Our plane left at 7:10 AM. On way down, there were interesting clouds — with many layers and cloud types visible.
We flew into Kiribati, crossing the International Date Line, so the day became Monday, 25 January 2016. On the way in, we flew over the populated end of the island. We could see the jetty that was inundated by a surge two weeks ago, washing a pickup off into the sea. Also, some of the abnormal surface water was visible. During El Niño, Kiritimati gets a lot of flooding.
We flew over the lagoon, which is what Kiritimati is famous for. This is where a lot of sport fishermen go to catch bonefish. It has shallow water, and the bonefish come into the lagoon from the ocean to eat shrimp and other creatures on the bottom of the lagoon.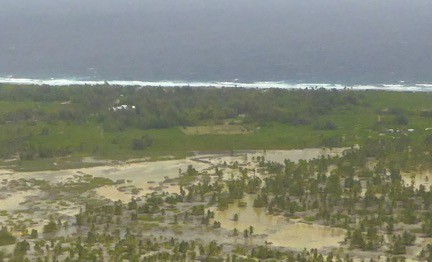 Continuing to fly more or less east, we saw Main Camp, where we will have our operations. In the photo, the large building just left of center is JMB Enterprises, where four pallets of our freight is stored. JMB is the local car rental and store. Just above center, there is a large square of ground visible. This is where the NOAA 50 MHz radar was located. Along the beach, just above the radar, is the Captain Cook Hotel where we are living and working. We checked into our hotel and are staying in a bungalow. The wind was blowing offshore and lifting the thatch at the ridgeline!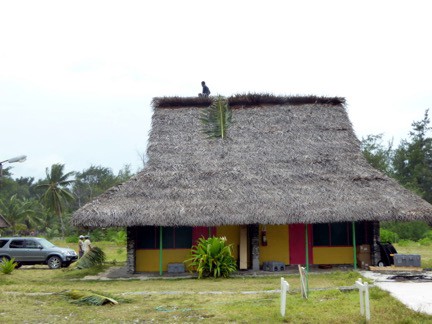 After checking in, we went to find our freight. After making sure that we have all our equipment, and then a very short wait, we had the equipment delivered to our bungalow. We started work, while the hotel crew began working on our bungalow roof.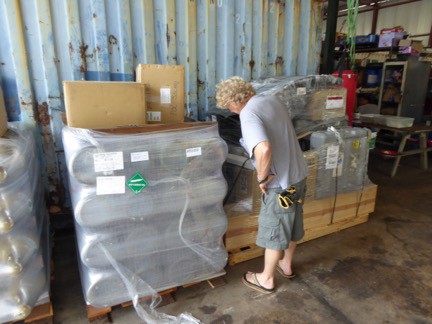 At the end of the day, we have the met station up, but not leveled and fully installed. It's not an ideal location, but given the options we have and the cables we have it's the best we can do. It will give good PTU (pressure, temperature, humidity) measurements, and the winds will sometimes be okay.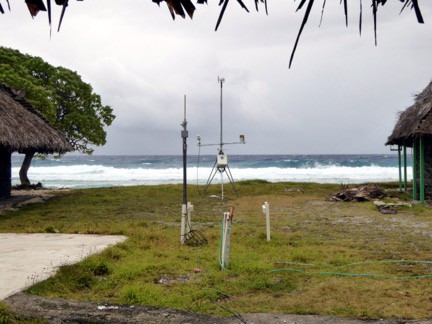 Getting everything to Kiritimati has been an exercise. Thanks to all who helped to get everything here. This reads more like a trip report than a blog, but it is what it is!
Signing off from Kiritimati,
Paul