HONOLULU, HAWAII — As is normal in field experiments, things can and do go awry. Scott Abbott (NOAA) and I traveled from Colorado yesterday. This morning we checked in for the Fiji Airlines weekly flight to Kiritimati. The plane left the gate and we got to the departure runway, then turned around. After the airline gave us lunch, they announced that we were not going to Kiritimati today, and they arranged for us to spend another night in Honolulu. Such are the problems of travel in the tropical Pacific. Flights are few, and delays do happen. The good news is that we will probably go to Kiritimati tomorrow.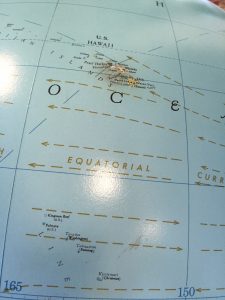 I'm taking this opportunity to write a short post for the ENRR (El Niño Rapid Response) blog. The place we are going to is commonly known as Christmas Island. In the Gilbertese language, the word pronounced "Christmas" is spelled Kiritimati. The country is spelled Kiribati and pronounced Kiri-bas. In Gilbertese, 'ti' is an 's' sound. You now know the extent of my Gilbertese language. Luckily everyone speaks some English, and language should not be a problem.
I'm off soon to have dinner with other ENRR staff, who will be in Honolulu part of the time for the G-4 (research aircraft) operations.