20 August 2014, by Paul Johnston: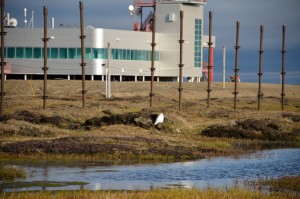 We arrived and anchored about 3 miles offshore of Barrow Monday afternoon. Tuesday, we spent training our replacements and doing last minute goodbyes, cleaning, and packing. Today, Wednesday, we were transported by small boat to the old Naval Arctic Research Laboratory (NARL) facility. NARL is now the Ukpegvik Inupiat Corporation (UIC) Science Center, a local corporation that supports research and arctic science. After clearing customs and immigration, we are staying in on the NARL site in a dormitory style hotel. We spent the afternoon wandering part of the newer part of Barrow and getting used to being on the ground.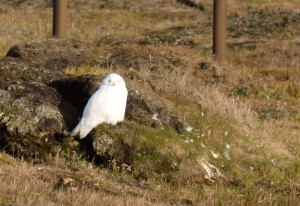 This evening, one of our scientists spotted a snow owl not to far from the hotel. The first picture, shows the snow owl sitting on the ground. The second photo shows a zoomed in image of the owl (from the original version of the first picture). This was one of the high points of the day, seeing more wildlife.
Tomorrow we will spend the day around Barrow sightseeing and relaxing some. Friday morning, we will go to the airport and start our trips home. I am flying with most of the scientists and crew to Seattle, by way of Anchorage. Most will stay the night in Seattle, then fly to Stockholm on Saturday. I will catch a plane to Denver about 1.5 hours after I get to Seattle. I will be home late Friday night, or early Saturday morning. It has been a long trip, we have crossed the Arctic Ocean. The science was very interesting, and the people a good crowd to travel with, but I am looking forward to being home.