I've been in Antarctica for a bit more than 4 days now and we are slowly getting all of our science equipment setup and ready to use. The last WinFly flight of the season arrived 2 nights ago and now we won't see another flight arrive until October 1st. It is always a strange feeling knowing that you are cut off from the rest of the world when the last plane leaves. In fact we are very limited in the area we can get to for the next month – basically anyplace we can drive to (McMurdo, Scott Base, and the Pegasus ice runway or about 15 miles of roads) or get to by snow mobile or tracked vehicle (maybe a 50 mile radius onto the Ross Ice Shelf and sea ice).
The weather has been mild. The high temperatures the last few days have been just above 0 F and the lows have been in the negative teens F. Yesterday was windier than the first few days we were here and the wind definitely made it feel colder.
Since I've spent a lot of time in Antarctica (this is my 10th trip to the ice) the daily life here is pretty routine for me but I thought it would be good to share a bit of our daily routine in this blog. The two big things I need to adjust to when I'm down here, aside from being away from my family, are the sleeping and eating arrangements.
Everyone on the base sleeps in dorms like this one.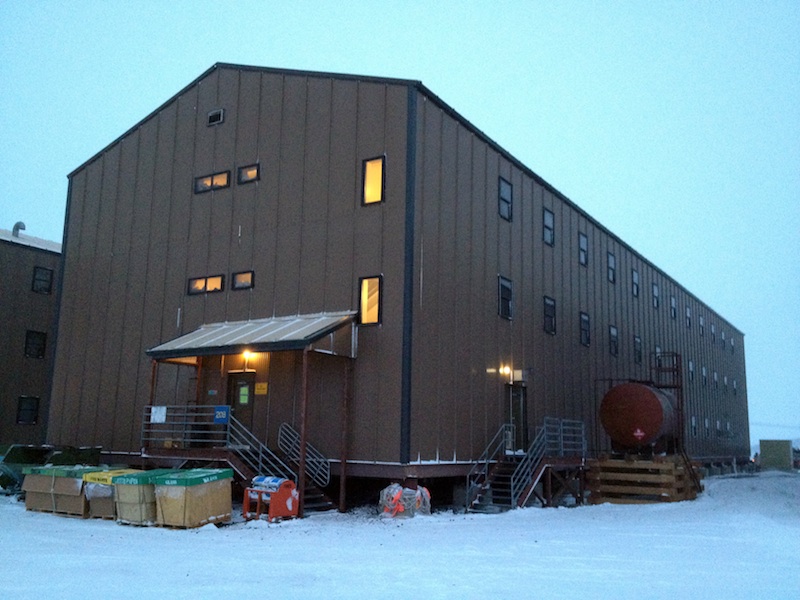 They're pretty dark inside. This is a hallway leading to the dorm rooms.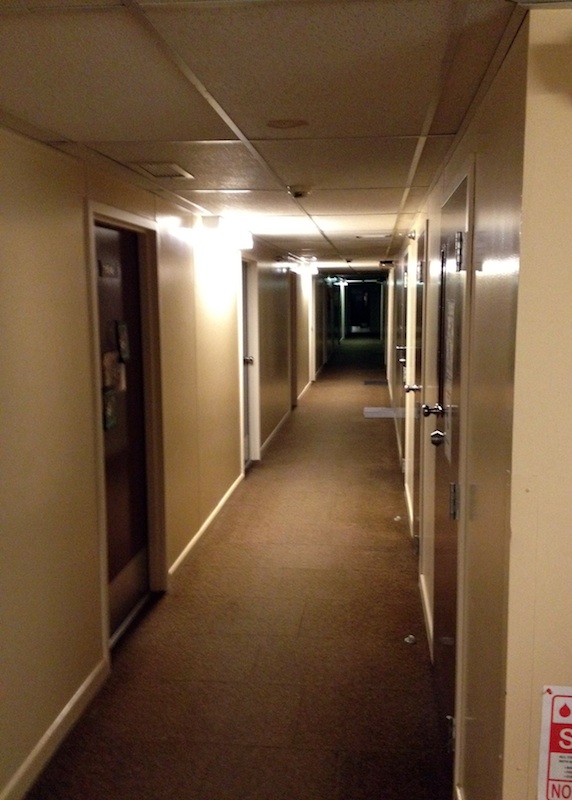 The rooms are relatively small and are typically shared by 2 people. I'm sharing my room with Cam, one of the Aerosonde guys on our project. We've split our room into 3 parts.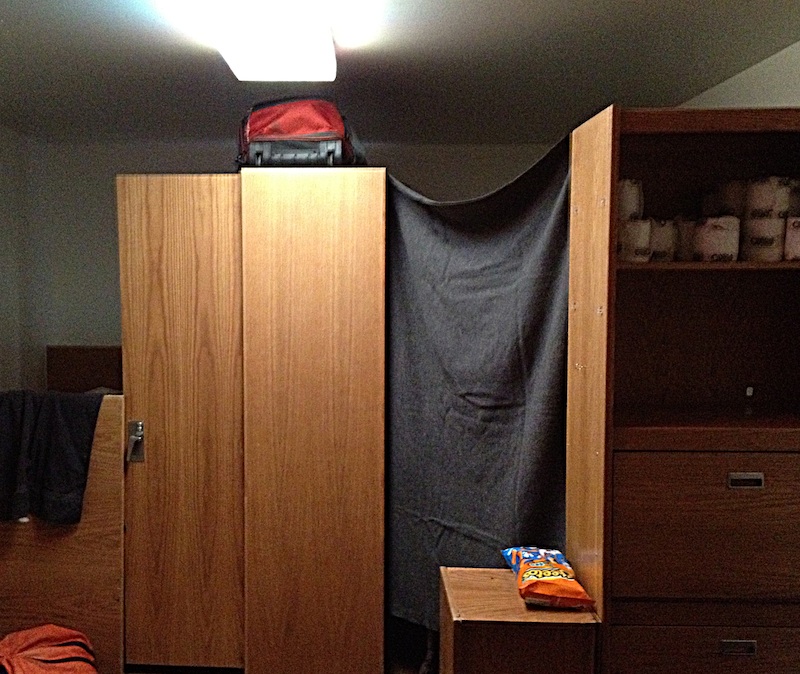 We have a communal living area with a couple of chairs and then 2 sleeping areas that are separated by two large wardrobes. I've made my sleeping space a bit more private by also hanging a blanket across the front of my bed to separate it from the rest of the room. As you can see below there isn't much space in my sleeping area.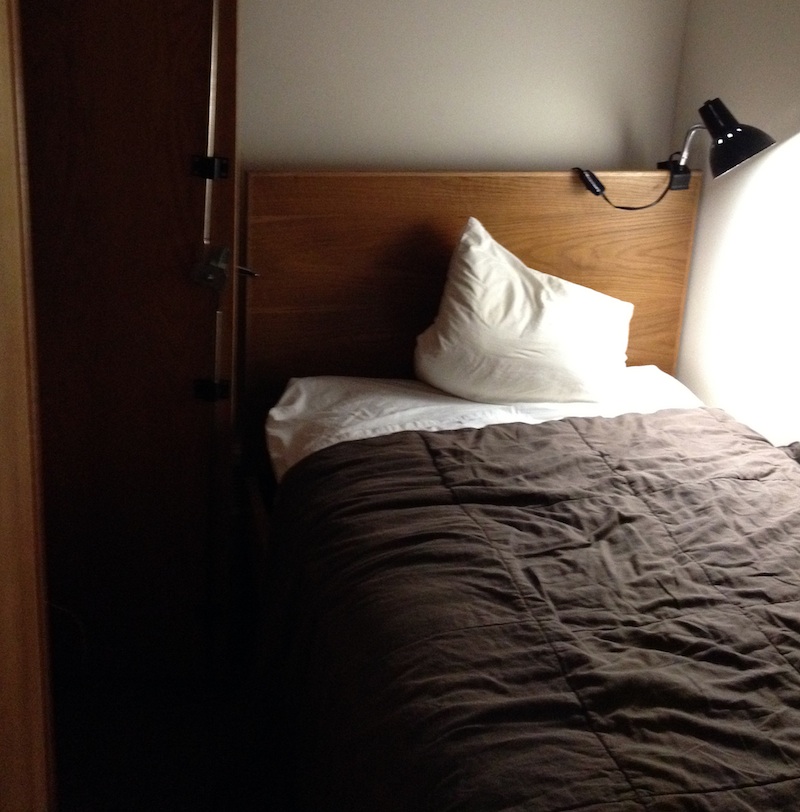 All meals are served in a cafeteria (typically called the galley). The galley is in building 155 (most of the buildings on base are referenced by number or an acronym).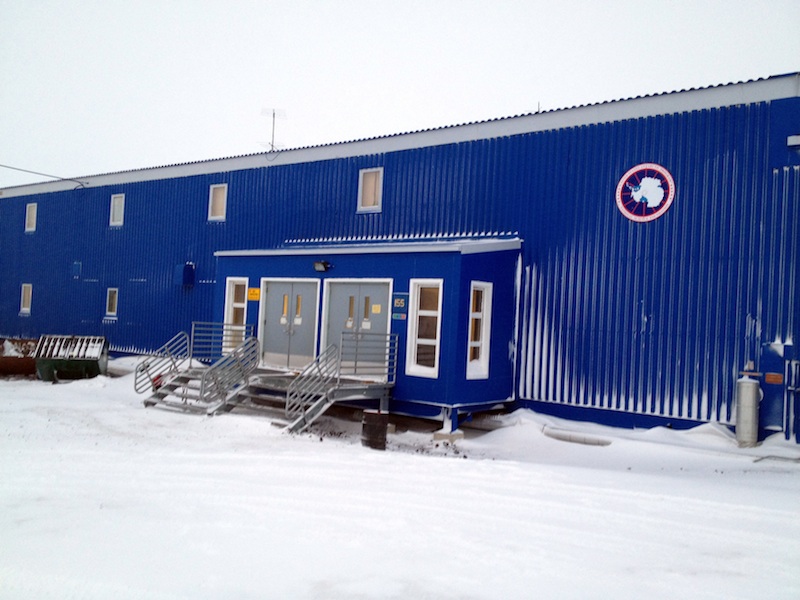 The food is all self serve and there are usually 2 or 3 choices for main dishes, several side dishes, and lots of dessert options at each meal.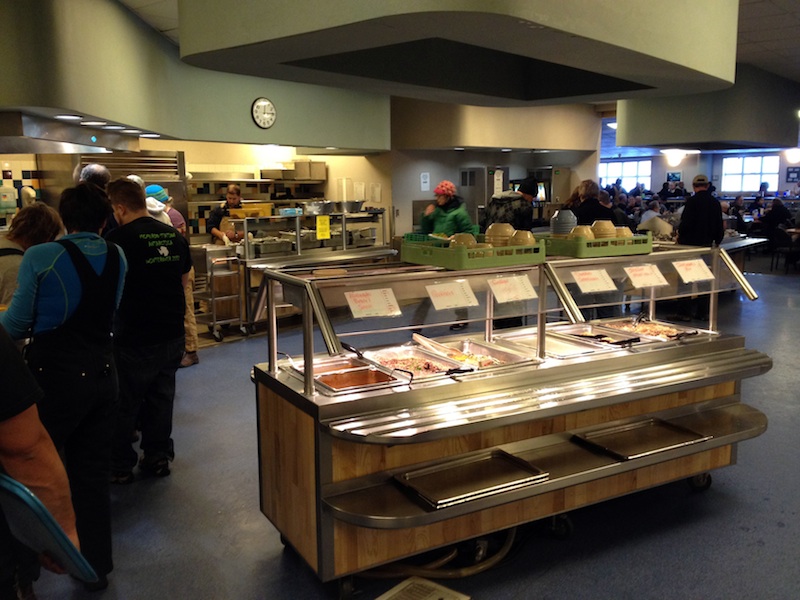 The food highlight of every day for me is my post-dinner ice cream. There is an all you can eat soft serve ice cream machine in the galley that serves Frosty Boy ice cream and there are several toppings available (chocolate sauce, M&Ms, sprinkles).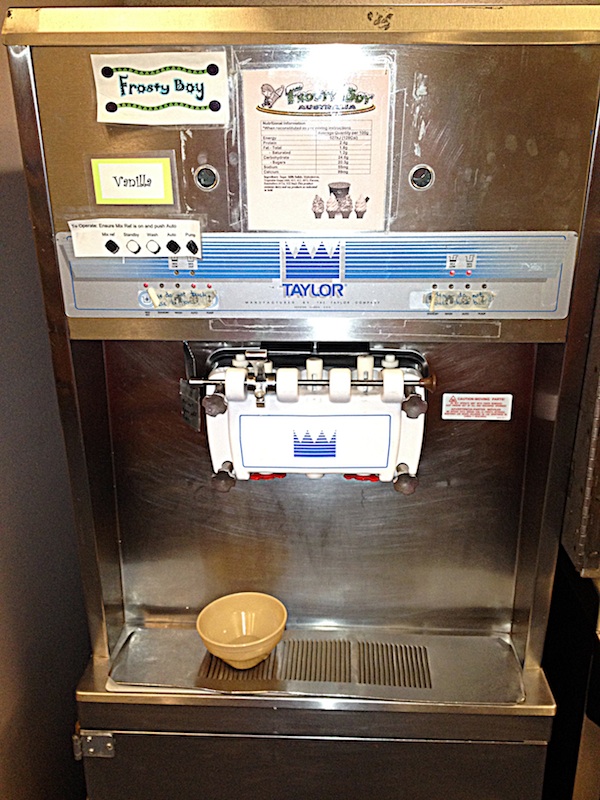 Meals are served at set times – breakfast from 6 to 7:30AM, lunch from 11AM to 1PM, and dinner from 5 to 7PM. Right now there are about 500 people on station so the galley can get pretty full at meal times.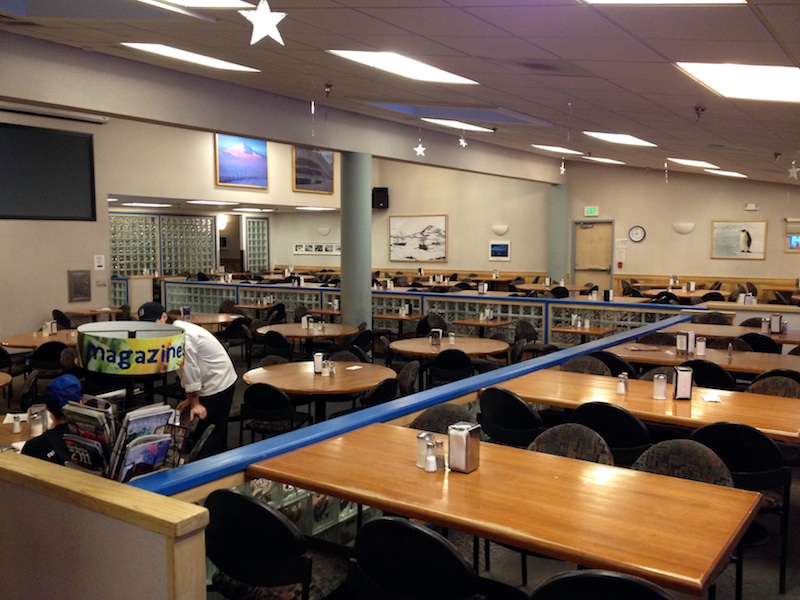 We spend most of our work time in the science building called the Crary lab.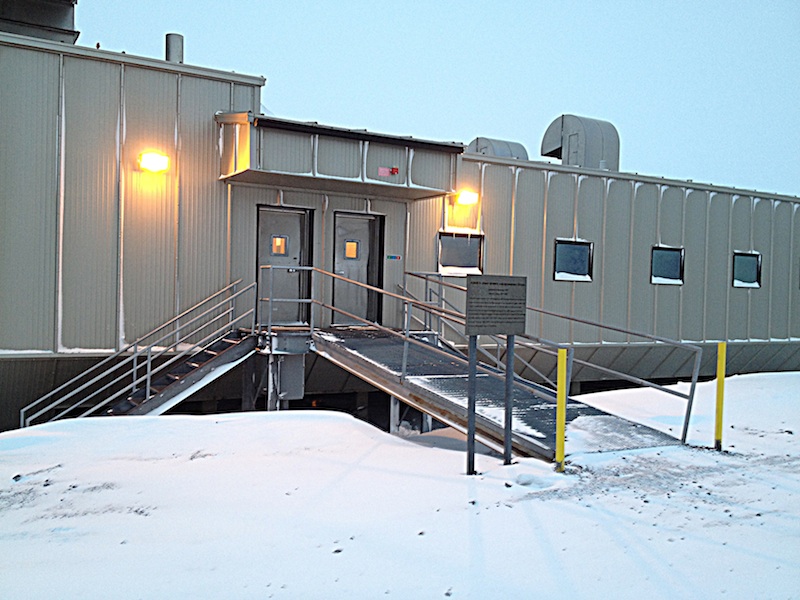 This building has space for both labs and offices and since there are very few science groups here at WinFly we have plenty of space (2 labs, 3 offices, and a large staging area where we can get equipment ready to go into the field).
The safety of everyone on base is a major concern given the extreme weather we can experience and also the large amount of heavy equipment moving around town. As a result we've spent a lot of the last few days attending various safety lectures and training classes to make sure we all know how to work safely in Antarctica. If things do go wrong there is a small hospital, but it has very limited facilities.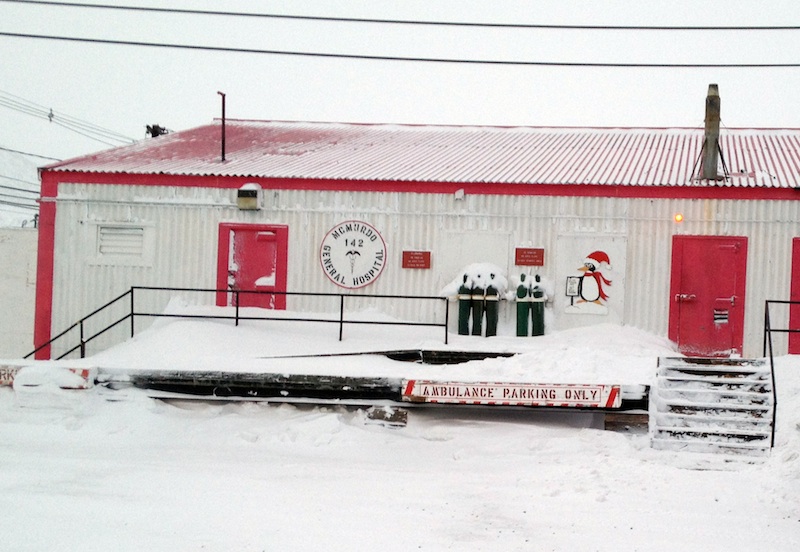 Of course it isn't all work and danger down here otherwise no one would ever come back after one season on the ice. There are 3 bars in town, although one hasn't opened yet for the summer season, one is open as a lounge but isn't serving alcohol (although you can bring your own in), and one is fully operational.
The thing I most like to do for recreation when I'm here is walk on the various trails around town. For WinFly many of these trails have restricted access. The recreation board in the building 155 lists all of the hiking trails, what restrictions are in place on each trail, and has a large electronic sign listing the current weather conditions.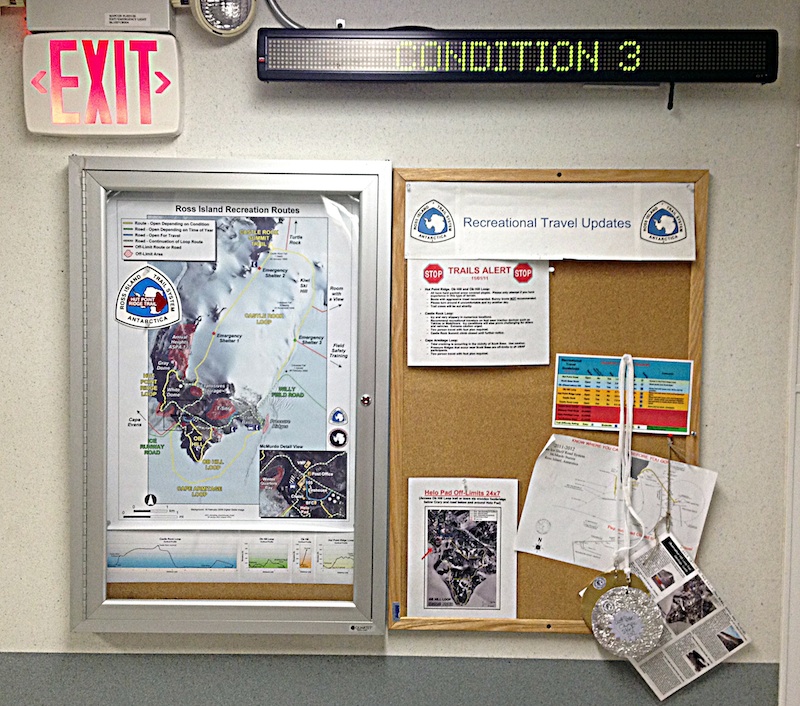 The weather conditions in town are broken down into 3 categories.
Condition 3 is normal weather, at least by Antarctic standards. Winds must be less than 48 knots (55 mph), the wind chill temperature must be warmer than -75 F, and visibility needs to be greater than 1/4 mile for condition 3 weather. Under these conditions we are free to travel anywhere on base or off base.
Condition 2 is more hazardous weather with travel restricted to on base only. Condition 2 weather occurs when the winds are between 48 and 55 knots (55 and 63 mph), wind chill temperatures are between -75 and -100 F, and visibility is between 100 feet and 1/4 mile.
Condition 1 is the worst weather conditions and no one is allowed to leave the building that they are in when condition 1 weather occurs. Condition 1 weather is defined by any of the following: Winds greater than 55 knots (63 mph), wind chill temperature less than -100 F, or visibility less than 100 feet.
In my 10 trips to Antarctica I've never seen condition 1 weather (although I hope that will change at some point on this trip) and have only seen condition 2 weather a couple of times. Recreational hiking is allowed only for condition 3 weather.
At WinFly there are only 3 trails that can be hiked solo and for all but one (which is basically just in town) you are required to carry a handheld radio and check-out and check-in with the firehouse staff so that someone knows where you are going and if you've made it back safely. It would be easy to fall and twist an ankle or break a leg on the rocky, icy trails. With temperatures below 0 F you wouldn't want to be stranded for hours or more without anyone knowing where you were. There are several other trails that can be hiked by groups of 2 or more and a few that won't be open for travel until the main summer season starts in October.
The other night I went for a hike by the light of the nearly full moon. I'll end this blog post with photos from this hike of my home for the next month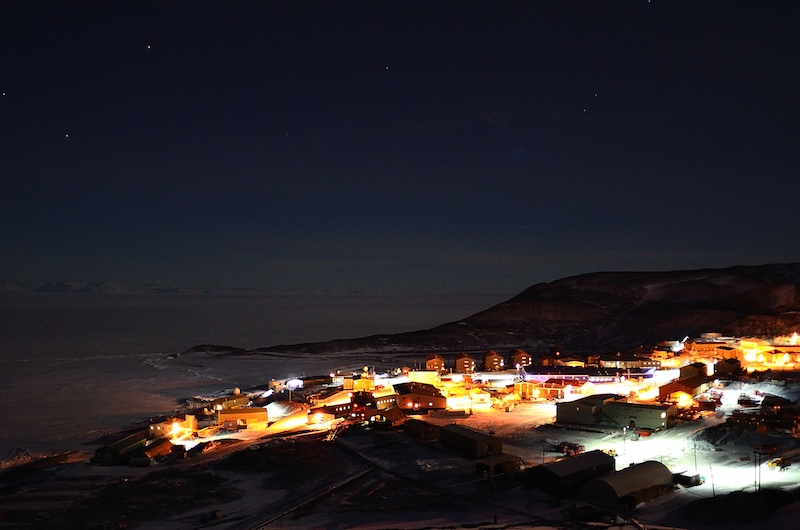 and a sample of the beauty we get to see down here.