Matt Shupe signing on to the Oliktok blog for the first time, and looking forward to some great days here on the North Slope.
I've been to the Arctic many times, under many conditions…. and it never stops providing amazing experiences. The science has been pretty slow around here, with high winds keeping the tethered balloon system grounded until tomorrow and nothing more to prepare. As we wait for science there have been some great sights and sounds that are uniquely Arctic. A late morning sunrise into a cloudy sky, accompanied by a deep breath in the frosty wind (ok, maybe the wind is not so unique compared to my home in the Colorado mountains!).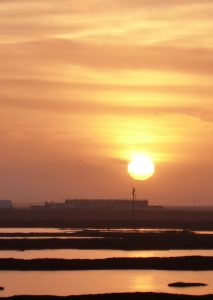 How about a couple caribou lounging in the tundra as the freeze up starts to set in?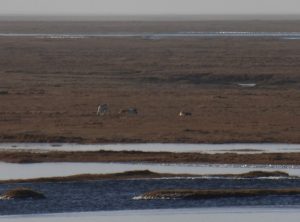 Those were are couple sites of the last few days; but what does the Arctic sound like? Today we had a brief opportunity to walk out on the tundra. It is totally inundated with water.  Ponds, streams, soggy wet soil and grasses.  Over the past couple of days it has all started to freeze. So walking around the tundra is a cracky, creaky experience. I didn't get wet at all, but the shallow ice and frozen grasses certainly made a lot of sound underfoot.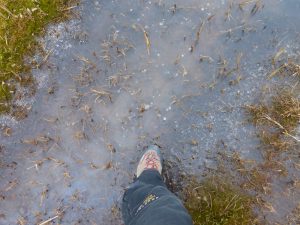 These have been a couple of fun experiences over the past days, but I'm really looking forward to making some measurements in the coming days. Ready to bring out a big balloon tomorrow and measure the atmospheric turbulence that is driven by cloud radiation (more on that in the coming days!).