After 28 days in Salt Lake City plus two weeks of integration, we've made it to the end of the UWFPS Campaign!
We are happy to report that the weather cooperated enough for us to complete all of our flight hours, EXACTLY! The last flights were mainly at night and in non-inversion conditions. Even though the wind helped to clean the air and move surface emissions out of the basins, these cleaner conditions will provide a good comparison to some of the night flying we did during inversion events earlier in the campaign.
Overall, everyone is extremely happy with the success of this project. Not only did the ground sites collect valuable data, the Twin Otter pulled off 23 research flights with nearly all instruments working on 100% of them.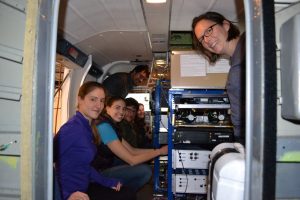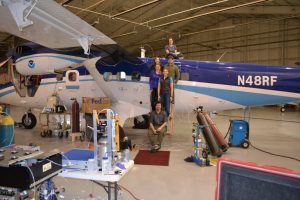 BUT, the work isn't over! Over the next few months we will be finalizing our data and developing initial findings that will be compiled into a Summary Report for the the state of Utah. After that, these and other findings will be turned into as many scientific papers as possible (Dorothy already claimed her first topic!).
As some closing thoughts, here are some highlights (at least in our opinion) from the project:
We used all our allotted flight hours and were able to fly a lot during two strong inversion events

All instrument problems were minor

We had two intriguing data meetings with the second followed by an amazing dinner hosted by our co-principal investigator Munkh Baasandorj from the U of Utah.

Our Media Event was well received with almost 30 reporters/photographers in attendance 

We had group breakfast at the OPH at 10am after flying all night (we were too tired to remember to take photographic evidence).

A reporter/photographer from Deseret News joined us on our second to last flight. She was even brave enough to take out the windows at 12,000 ft to get some good shots (which is perfectly okay on the unpressurized Twin Otter) 

We managed to keep a constant supply of candy/girl scout cookies/baked goods at the hangar throughout the campaign

We had a nearly 50/50 mix of men and women scientists! 

We surpassed our goal of 10 blog posts (yay!)!

Co-principal investigator Steve finally got his chance to be flight scientist on the very last flight!
This is our final blog post, thanks for reading and we hope you've enjoyed it!