The most physically demanding aspect of the Ionosonde installation is construction of the towers. The site consists of 4 120 ft towers that support the transmit antenna, and 7 20 ft towers that house the receiving dipole elements. The site occupies almost ten acres of land.
One of the big challenges working in Antarctica is fighting the elements. This photo was taken during one of those days where it just was not practical to try to work outside.
When the weather does cooperate, we have to deal with the ground condition which consists of very large boulders, running water and lots of mud.
A half meter below the surface another big challenge of digging in continuous permafrost awaits.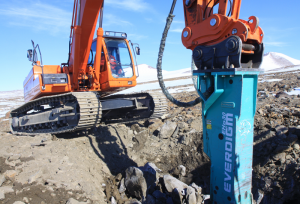 After weeks of preparation, the towers were ready to be assembled. This was accomplished using a large crane and lots of muscle.
The finished towers are quite a structure against the otherwise barren landscape, and are expected to stand for many decades.
To be able to withstand the 150 mile per hour winds expected at Jang Bogo Station, giant guy anchors are installed to provide lateral support of the towers. This photo shows the team working on one of the 12 massive guy anchors.
The receive towers, although smaller, also posed their own set of challenges and required centimeter accuracy in their placement and leveling.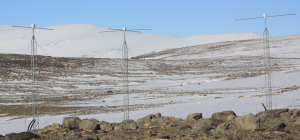 Once the towers are assembled, the massive network of radiating elements are assembled between the 4 large towers. The elements are very small and almost impossible to photograph. They consist of more than one mile of cable that many say look like a massive spider web. Some of our friends at the station have joked it's to catch Skua's, which are large birds that are otherwise at the top of the local food chain. Fine tuning of the antenna is done with an aerial lift.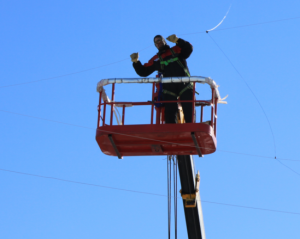 Once assembly is complete, the electrical properties of all of the elements are tested. Having passed these tests, the array is now ready for work once the VIPIR Ionosonde is installed.