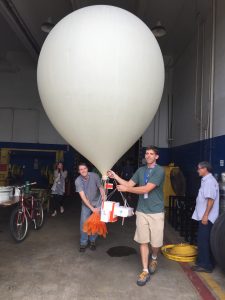 Aircraft Troubleshooting underway.  Stay tuned for an update via email and WhatsApp.
Accomplishments:
Science Flight #4 Completed
Balloon Launch #1 Completed
Current Plan is the following:
Wednesday, October 19th – Flight Day – Science Flight #5
0700-0800 Instrument Upload
0830 Mission Brief (Ru-Shan will represent Science.  Each instrument team can let Ru-Shan know their instrument fly status.)
1030 Estimated Take-off
1330 Possible Balloon launch
1600 Estimated Landing
1630 Post Flight Brief (Send rep or inform Ru-Shan instrument update so download is not delayed)
1630-1830 Instrument Download
Thursday, October 20th – Access
0730-1000 Aircraft Access with power
1030 Science/Weather Brief
Tell Ru-Shan/Eric if you have a science presentation
1100 – Marilyn will poll teams to determine afternoon access requirements.
1615-1930 Aircraft Access window as needed.
Friday, October 21st – Flight Day – Science Flight #6
FYI:
We'd like to host a lunch for United Maintenance, possibly on Mon or Tues next week. – ($10/person).  See Susan.
United Open House has been modified to invite personnel when available.
Media Day is tentatively rescheduled Oct 24th.