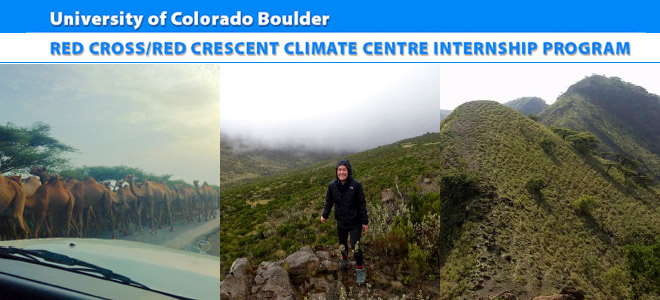 Red Cross/Red Crescent Climate Centre Internship Program
by Katie Chambers
Ethiopia, August 2017
Katie is a PhD student in Environmental Engineering with a focus on Engineering for Developing Communities. In Ethiopia, Katie will be developing flood inundation maps for communities downstream of hydroelectric dams. These maps will guide the development of Early Warning Early Action frameworks for the Ethiopian Red Cross Society and IFRC. Her environmental engineering research investigates the comparative vulnerabilities and resilience of different types of sanitation systems found in resource-limited communities, as well as the tradeoffs made when prioritizing resilience in system selection.
View photo gallery from the field by Katie Chambers
I cannot believe my time in Ethiopia is coming to a close! In writing this final piece, I wanted to discuss the Climate Centre's larger work in hydropower to provide context for my specific work. The Climate Centre recently piloted an innovative flood-modelling software for hydroelectric dams called FUNES. It is a self-learning program for flood forecasting and used to manage flood risks in vulnerable communities located downstream of dams. Without getting into too much detail, it can be used to improve predictions of flood events and optimize controlled releases to minimize flood impacts. If FUNES is implemented in Ethiopia, my research would contribute to the development and optimization of the model. Though my part of the project is complete, there is still work to do. Regardless of what solutions are implemented, the successful and continued coordination of multiple stakeholders is required. I'm cautiously hopeful that some solutions can be implemented to improve the livelihoods of the communities downstream of Koka Dam.
On a more sentimental note, this summer has passed so quickly! Though I'm ready to return to friends and family, it feels like I just arrived to Ethiopia a couple weeks ago. Wasn't it just last week that I learned the proper technique for eating injera (a sourdough-risen flatbread also used as an eating utensil here)? And didn't I just discover the optimal coffee-to-Katie ratio that allows me to fall asleep at night? I'm incredibly thankful for this summer's experience and the help of all the project partners that made it happen. This summer has been full of learning, both about my project and myself, and I'm excited to return to Boulder full of new knowledge and experiences. In addition to the work done on the project, token moments of fun were also had (I promise!). From unexpectedly getting snowed on in Kenya, to camping next to waterfalls and hiking up an old volcano in Awash National Park, to exploring Addis Ababa, and to all of the little fieldwork moments that just make you laugh – this experience has been incredible and unforgettable. To anyone reading this that is interested in interning with the Climate Centre through CU, I highly encourage you to apply and I'm always open to answering questions!