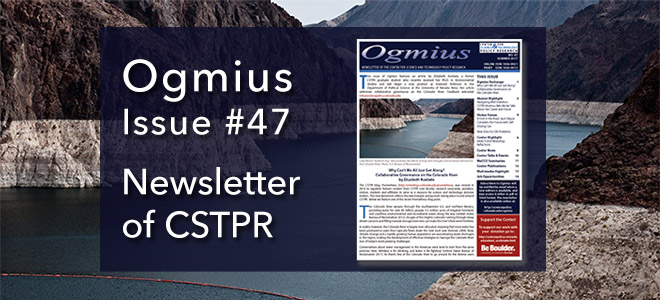 Ogmius
Issue #47, Summer 2017
This issue of Ogmius features an article by Elizabeth Koebele, a former CSTPR graduate student who recently received her Ph.D. in Environmental Studies and will begin a new position as Assistant Professor in the Department of Political Science at the University of Nevada Reno. Her article addresses collaborative governance on the Colorado River. Feedback welcome! info@sciencepolicy.colorado.edu
Why Can't We All Just Get Along?
Collaborative Governance on the Colorado River
by Elizabeth Koebele
The Colorado River weaves through the southwestern U.S. and northern Mexico, providing water for over 40 million people, 5.5 million acres of irrigated farmland, and countless environmental and recreational assets along the way (United States Bureau of Reclamation 2012). Images of the mighty Colorado rushing through steep desert canyons and filling massive storage reservoirs can make the river's flow seem limitless.
In reality, however, the Colorado River is largely over-allocated, meaning that more water has been promised to users than typically flows down the river each year (Kenney 2009). Now, climate change and a rapidly growing human population are exacerbating water shortages in the region, making the development of effective strategies to manage the Colorado River one of today's most pressing challenges.
Conversations about water management in the American west tend to start from the same premise: here, "whiskey is for drinking, and water is for fighting" (United States Bureau of Reclamation 2017). As there's less of the Colorado River to go around for the diverse users that depend on it, greater conflict seems imminent. Threats of impending "water wars" over the Colorado have become so forged into the region's collective mindset that they've started to show up as plotlines for popular dystopian fiction novels, like Paolo Bacigalupi's The Water Knife. Read more …
Navigating With Intention: CSTPR Alumna Bets McNie Talks About Her Career and Future
Elizabeth "Bets" McNie was part of the first ever graduate student cohort at the Center for Science and Technology Policy Research (CSTPR). She knows that CSTPR is a special place.
"Being part of the community here was the best part," says McNie. "I'm still really good friends with a lot of the students who were in my cohort. There's a sense that the people here 'get' the importance of the science-policy nexus, and that's one of the things that really appeals to me."
McNie has studied the connections between science and policy ever since. During her PhD, McNie studied how a program called The Regional Integrated Sciences and Assessment (RISA) produces usable data for decision makers. These studies showed her how difficult it can be to cross the stormy waters between scientists and policy-makers, but how important it is to cross those waters.
"CSTPR made me appreciate how complex the landscape is between science and policy, and how it needs to be navigated with intention," said McNie. "It's not simply about producing the information and plopping it on someone's desk in a glossy brochure. It's really about working intentionally with the intended users of the information to try and produce information that they can use and will use." Read more …
A Fork in the Road: Jack Stilgoe Considers the Future with Self-Driving Cars
When you imagine a future with self-driving cars, what do you picture? Are you sliding into your own Tesla Model S, or are you calling up Driverless Cars Company X for a ride? Do the cars circle campuses and downtown streets until summoned? Or do they quietly return to driveways and parking lots, ready to be woken up when needed? For all of Elon Musk's confidence, it is still unclear how self-driving cars will fit into or reshape our society.
Jack Stilgoe, visiting professor from the University College of London, became increasingly interested in self-driving cars after a crash in 2016 resulted in the driver's death and reawakened some doubts about the technology.
"It's a bit of a morbid interest," laughed Stilgoe, "But people like me are extremely interested in accidents because they show the reality of technology, not just the shiny public image." Read more …
New Data For Old Problems
What should social scientific research look like in this so-called age of "big" data, where everything is connected, and seemingly everything is digitized? Here I want to briefly reflect on some of the promises of new data and research methods, and consider the ways that we might integrate these computational approaches with traditional qualitative fieldwork. My main claim is that while the Internet has certainly transformed the world, our methods for understanding and explaining social life have not kept pace.
We live our life in a huge connected network. We check emails, make cell phone calls, text our friends, swipe our credit cards, communicate on social media, post videos, send money, or purchase our goods. Almost every transaction is recorded digitally, as doctors create digital records of our health, stores log our buying patterns, and so on, and so forth. Until recently, these behaviors – such as a simple phone call or simple store purchase – were not easily traceable. These digital "breadcrumbs" were not gathered. There were no digital timestamps or digital text duplicates of a handwritten note, or a cash exchange. Of course, this raises ethical concerns about privacy, of which certainly need to be front and center as scholars working outside of the private sector figure out how to incorporate this data into research for the public good. Read more …