by Katie Dickinson, CSTPR Core Faculty Member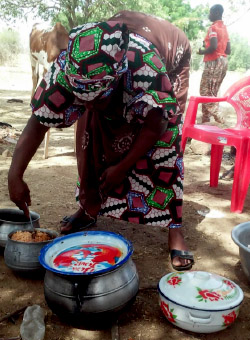 Think for a moment about the last meal you cooked. What kind of stove (or stoves) did you use? A gas range? An electric oven? A charcoal grill? A microwave? Maybe you even used an outdoor campfire.
For most of you reading this, the technologies you used to cook your last meal were probably fairly clean. Meeting your daily cooking needs does not expose you to harmful levels of household air pollution. But for nearly half of the world's population, cooking and smoke exposure go hand in hand. Nearly three billion people worldwide rely on stoves that burn biomass, like wood and charcoal. Not eating is not an option, but exposure to household air pollution linked to these cooking practices can be deadly: nearly 4 million people die prematurely from diseases linked to smoke from cooking.
Photo: Ghanaian woman stirs rice cooked over improved woodstoves during "Prices, Peers, and Perceptions (P3)" project stove demonstration and marketing meeting.
Looking at the problem from this angle, it's difficult to understand why people would choose to continue to cook over open fires and other polluting biomass stoves. But a little more reflection might remind you that changing behavior and adopting new practices is hard for all of us, for a multitude of reasons, and that many potential barriers exist to spreading the adoption of even the most promising new practices and technologies.
What if I told you that the stove you were using was bad for your family's health, and that from now on you should only cook using a fancy new gadget that used some sort of specially designed fuel capsules? I imagine you'd have a few questions before you'd rush out to buy one of these "improved" stoves:
Where can I get one of these stoves? Is it available in my area?
How much does it cost?
Where do I get the pellet fuel?
How does it work?
Can I cook all of the same dishes on it that I'm used to preparing?
Does the food taste the same if it's prepared on this new stove?
Does it cook food faster or slower than my current stove?
Will it fit in my kitchen?
If it breaks, who will fix it?
Do I know other people who have used these new stoves? What do they think of these gadgets?
These and other questions are currently facing households in Northern Ghana who are participating in the Prices, Peers, and Perceptions (P3) improved cookstove study. Since 2013, I've been working with colleagues at CU Boulder, NCAR, and the Navrongo Health Research Center in Ghana, to better understand how use of cleaner stoves could be scaled up in this region. This year, our interdisciplinary, international research team has partnered with a small Ghanaian NGO, the Organization for Indigenous Initiatives and Sustainability (ORGIIS), to implement a new set of interventions offering households different types of improved cookstoves at different prices.
In March, ORGIIS began the first set of interventions with study participants from the rural areas of our study region, the Kassena-Nankana Districts on Ghana's northern border. ORGIIS holds small meetings in rural communities, inviting six households at a time to come and try out two different types of improved woodstoves, which use the same fuels households are used to but should produce less smoke. After the meeting, each participant is given an option to buy up to two stoves of either type. Because we are interested in learning about households' willingness to pay for these stoves, the prices are randomized across different groups. In some meetings, households can get the stoves for free, while in other communities, participants must pay lower or higher prices for their stoves, though all households get a substantial discount over the stoves' market price. (The full price of the more basic stove, called the Greenway Jumbo, is about $33, while the fancier ACE1 stove, which also includes a USB charging port and a small LED light, costs about $75.)
In this video, you can see ORGIIS and NHRC staff demonstrating these two stoves to study participants at a community meeting.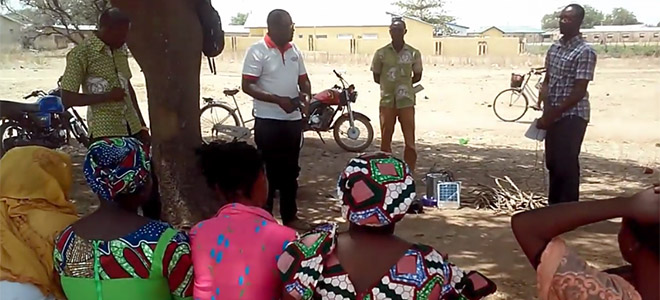 The other factor we are exploring is whether having social contacts that have experience with these stoves makes participants more or less likely to buy them. About half of our 300 rural P3 participants are from communities that were included in our earlier REACCTING cookstove study, which involved free distribution of similar stoves, while the other half are from different communities without much exposure to these stoves. We'll be comparing stove purchasing and stove use choices for these "peer" and "non-peer" groups, and seeing how both prices and peers' experience affect perceptions of these new stoves and their quality.
The rural intervention meetings will wrap up in April, and our team will visit Navrongo in May to plan an additional set of interventions that will offer liquefied petroleum gas (LPG) stoves to participants in the more urban central area of the study districts. While the challenge of cleaner cooking won't be solved overnight, we hope that learning more about the factors that influence households' choices will help point the way towards cleaner home environments and healthier communities.