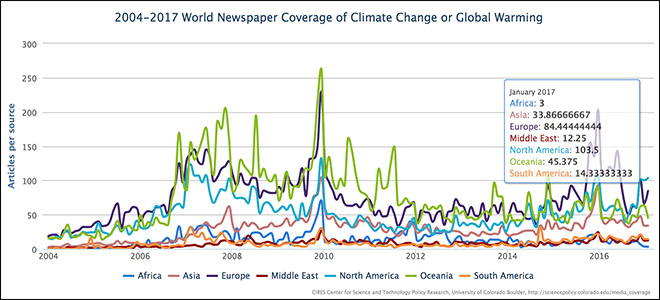 Updated through January 2017
*Japan & Spain Updated through December 2016

The Media and Climate Change Observatory (MeCCO) monitors fifty sources across twenty-five countries in seven different regions around the world. MeCCO assembles the data by accessing archives through the Lexis Nexis, Proquest and Factiva databases via the University of Colorado libraries. These fifty sources are selected through a decision processes involving weighting of three main factors:
geographical diversity (favoring a greater geographical range)
circulation (favoring higher circulating publications)
reliable access to archives over time (favoring those accessible consistently for longer periods of time)
World, Australia, Canada, India, *Japan, New Zealand, *Spain, United Kingdom, & United States
Figure Citation
Gifford, L., Luedecke, G., McAllister, L., Nacu-Schmidt, A., Andrews, K., Boykoff, M., and Daly, M. (2017). World Newspaper Coverage of Climate Change or Global Warming, 2004-2017. Center for Science and Technology Policy Research, Cooperative Institute for Research in Environmental Sciences, University of Colorado, Web. [Date of access.] http://sciencepolicy.colorado.edu/media_coverage.