Jack and Sonja picked up Tim shortly after noon at the Minneapolis-St Paul airport and started heading east and north to get to Park Falls, Wisconsin.  We felt like all we saw in northern Wisconsin was tall trees and signs for boat launches…..  should be interesting AirCore recoveries….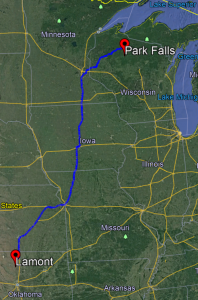 We moved our stuff into a sweet homestead for the next week – a cabin on Schnur Lake – and then went for a short drive.
Our first stop was at the WLEF transmitter tower, which also hosts a TCCON Fourier Transform Spectrometer instrument and air sampling equipment from the NOAA Global Monitoring Division's Carbon Cycle Greenhouse Gases Group.  We made sure our helium had been delivered there and then drove into the National Forest to scope out some potential launch sites for tomorrow.